Pressroom
Critical news. Trending topics.

Spotlight
Theater Breaking Through Barriers The Other Plays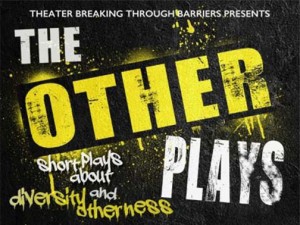 Beginning March 10th at the Jeffrey and Paula Gural Theatre at the new Art New York Theaters Theatre Breaking Through Barriers  offers its newest short play festival, The Other Plays, short plays about diversity and otherness.
Featured playwrights include Neil LaBute, Bekah Brunstetter, Lameece Isaaq, Dennis A. Allen II,
Tatiana Rivera and others, writing about what it's like to be "other" in our society.
Theater Breaking Through Barriers, is the only Off-Broadway theater, and one of the few professional theaters in the country, dedicated to advancing actors and writers with disabilities and changing the image of people with disabilities from dependence to independence.
Barrier Free Living Daily