Domestic Violence & Disabilities
Barrier Free Living is an expert working with survivors of domestic violence with disabilities.
"Domestic violence is the number one issue of women with disabilities"
Paul Feuerstein, President/CEO
Our Latest DV Initiatives
The BFL team shares nearly 40 years of experience, knowledge and growth in the domestic violence and disabilities field.
Barrier Free Living Clothesline Project
Kicks off Domestic Violence Awareness Month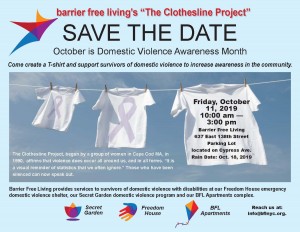 View a short video from the Clothesline Project
here. 
The BFL Clothesline project* — the brainchild of team member Irma Williams — is our agency centerpiece, bringing together our supporters and the community to spread a message of anti-violence and healing.
Participants at the event can decorate T-shirts with heart-felt messages. Activities include a self defense demo by 
Pop Gym
 and a movement workshop with 
Gibney Dance
 (read our story about Gibney's Crack the Light show later this month.)
Through the month, in addition to providing education and outreach at scores of events through the city (see our Calendar of events at far right), our team will be sharing our expertise (check out BFL Chief Program Officer Cynthia Amodeo's piece about Parents with Disabilities later this month). We will feature the stories of our valiant supporters like 
Spread the Sparkle
 (read founder Abbey Levine's interview) as well as our community heroes (read about Clothesline Project guest speaker Samantha Taylor ).
Make sure to tag us in your posts, your advocacy and your events at twitter: @barrierfreel – 
facebook: barrierfreeliving – 
instagram: bfl_newyork #barriefreeliving.
*The clothesline project is a worldwide movement created to bring awareness to the issue of violence against women men and children. For those who have been affected by violence, it is a means of expressing their emotions by decorating a t-shirt.
Fierce Supporters & Inspiring Voices 
During October's Domestic Violence Awareness Month we will be shining a spotlight on our incredible supporters (like Abbey Levine and Spread the Sparkle) as well as hearing voices of courage and inspiration like Samantha Taylor (pictured below) who is the author of the inspiring new Victim To Victor. Samantha will be speaking at Barrier Free Living's Clothesline Project on Oct. 11.
Through the month we will be adding links to new stories to our list below, so check in regularly!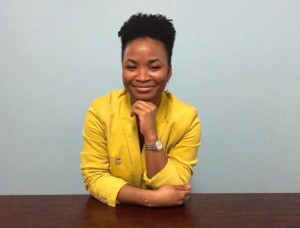 Victim to Victor: Author Interview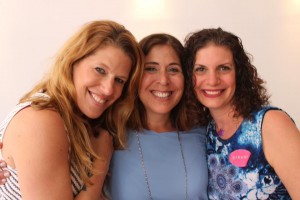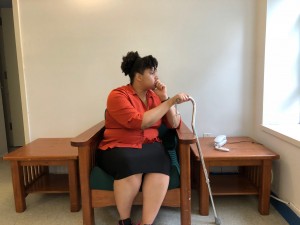 Emily's Journey: Survivor Spotlight 
Emily's Journey: Survivor Spotlight (Part 2)
Photo is representational, per confidentiality
Calendar of Events, Outreach & More
Domestic Violence Awareness Month Calendar NYC 2019
Check out a thorough (downloadable) tip sheet providing information on events, activities, and resources organized by FYSB-funded national training and technical assistance resource centers to commemorate Domestic Violence Awareness Month
HERE.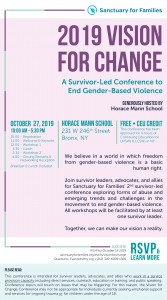 Vision For Change
A survivor-led conference to end gender-based violence
Sunday, October 27th
Horace Mann School, Bronx NY
RSVP By October 18, 2019:
sanctuaryforfamilies.org/event/visionforchange
Questions:
[email protected]
• (212) 349-6009 x366
Unmasking Domestic Violence:
Changing Your Perspectives
October 19
Noon-5pm
Members Free. Non Member $10
St. Thomas More Church
65 East 89 St.  NYC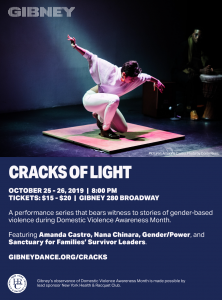 Gibney Dance Cracks of Light – Co Presented by Sanctuary for Families
Gibney bears witness to stories of gender-based violence and invites audiences to expand the boundaries of gender and explore the concept of transformation.
Friday, October 25 – Saturday, October 26
Gibney, 280 Broadway (Entrance at 53A Chambers)

Tickets  $15 – $20 Purchase them here!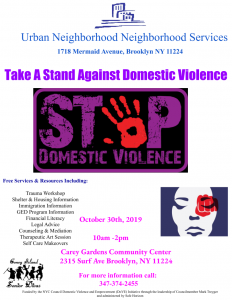 Take A Stand Against Domestic Violence
Barrier Free Living team members will be part of this event, speaking and sharing outreach materials.
Presented by Urban Neighborhood Services
Oct. 30
10am-2pm
Carey Gardens Community Center
Brooklyn NY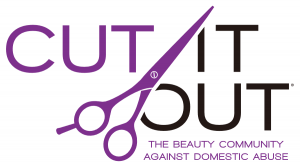 CUT IT OUT
Cut It Out and L'Oreal will be offering free salong services to survivors of domestic violence.
Oct. 17
Redken Exchange
404 5 Ave. NY NY 10018
To schedule an appointment go
here
.
CUT IT OUT® The Beauty Community Against Domestic Abuse is a program dedicated to mobilizing salon / spa professionals, students and others to fight the epidemic of domestic abuse in communities across the United States. CUT IT OUT® builds awareness of domestic abuse through awareness materials to be displayed in salons, the "Give the Power Back" initiative to involve salons in helping local domestic violence agencies, and training salon / spa professionals and students to recognize warning signs and safely refer clients to resources.
Freedom House DV Shelter Virtual Tour 
Take a virtual tour of Barrier Free Living's Freedom House domestic violence shelter for survivors with disabilities. Get an up close and inside look at what makes our shelter absolutely unique and vital.
Link to film here .
Breaking Barriers In DV Newsletter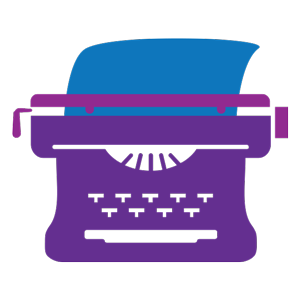 Each month BFL team members share their expertise and experience around our work with survivors of domestic violence with disabilities. Email us to sign up: [email protected]
Stories of Survival
The great benefit of our work at Barrier Free Living is the opportunity to see the results of our programs and hear the stories of inspiration, persistance and survival that our programs have helped to create.


"My family feels safe. We are learning to be strong and to love ourselves. I am so glad we are here" More about  Olga's Journey of Hope


"I wanted to volunteer here because I wanted to be part of the great mission that Freedom House has for women and children." More about  Bethelihem's Journey of Hope