Domestic Violence & Disabilities
Barrier Free Living is an expert working with survivors of domestic violence with disabilities.
"Domestic violence is the number one issue of women with disabilities"
Paul Feuerstein, President/CEO
Our Latest DV Initiatives
The BFL team shares nearly 40 years of experience, knowledge and growth in the domestic violence and disabilities field.
Barrier Free Living: 40 Years And Growing!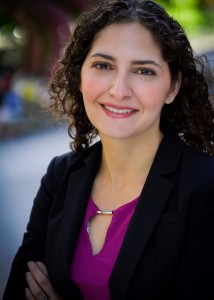 Chief Program Officer Cynthia Amodeo shares her thoughts on where we have been, and where we are going.
As we move into 2020, our team is both grateful and inspired by the fact that Barrier Free Living (BFL) is approaching our 40th year (2021) working with people with disabilities.
Under the guidance of our CEO/Founder Paul Feuerstein, BFL began as a small NYC store front with a big mission – to support individuals with disabilities who were being denied critical services and who deserved respect. These voices need to be heard now more then ever.
Over the years, we moved into working with survivors of domestic violence with disabilities at our three programs, Freedom House domestic violence shelter, Secret Garden, and Barrier Free Living Apartments.
This year, we have nearly 100 employees serving approximately 1,500 adults and children. Our teams provide counseling, case management, financial empowerment, and wellness programming.
However, BFL is more than just direct services. We support our participants, tenants and residents so they can reclaim their voice which someone may have shut down (view our BFLMinute Ebony Finds Safety & Hope At Freedom House here)
BFL has grown in so many ways, thanks to the support of our wonderful investors from the city, state, and federal government as well as an ever-growing roster of volunteers and champions (see our stories about supporters Youtube sensation Lucie Fink and Sophie Horrocks).
Currently, we have a small group of donors who give yearly and we are very grateful to them. These small investments have made big changes in people's lives. Donors have helped buy plane tickets for survivors to move out of state and create new homes free of violence, purchase accessibility equipment such as a wheelchair that the abuser destroyed, and replace documents such as birth certificates and social security cards.
At Barrier Free Living we are always striving to do better. We are at a place where traditional city, state, and federal funds cover the day to day costs to run our programs but there is little room for program innovation and professional staff development which are key values of the organization and our mission.
As we look towards our future and continued growth, BFL is asking you think about financially investing in our cause and mission to help individuals with disabilities to live lives free of abuse and bias. This year we have a goal to raise $100,000 to support the people we serve with innovative programming and our staff in their professional growth.
To learn more about us, or how to support our mission visit out make a difference page here.
Freedom House Featured on 5 Days Of Giving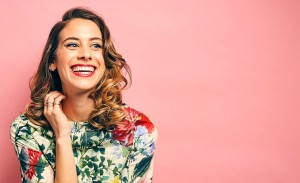 This holiday season, YouTube sensation Lucie Fink (
Try Living With Lucie
, photo above) and 
Refinery29
 filmed an episode about meaningful giving at Barrier Free Living's Freedom House domestic violence shelter.
Volunteer Spotlight: Sophie Horrocks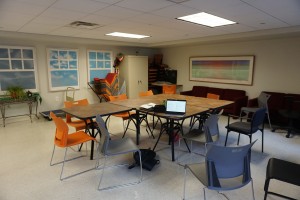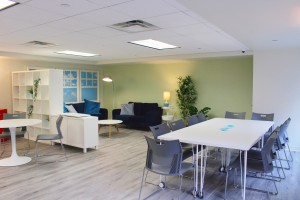 After 40 years of working with survivors of domestic violence, the volunteer support for Barrier Free Living's programs is stronger than ever.
Case in point: Sophie Horrocks, a student in Global Innovation Design who discovered our agency and wanted to use her skills to support our mission.  She signed on to spruce up the lounge at our BFL Apartments program in the Bronx
The project, completed in a month, garnered incredible results. (Before and After photos of the BFL Apartments Lounge above.)
We spoke to Sophie before she left New York, heading back to London where she lives.
BFL: What first led you to Barrier Free Living? 
Sophie: 
I was actually reaching out to local New York charities for another project I was working on, and Barrier Free Living was one which I was interested in speaking to. Whilst discussing the other project I was put in touch with Scott who mentioned their desire to work with a designer for the group room – in his words – kismet!
BFL: Why did you want to volunteer and what were your first thoughts as you approached the project?
Sophie: I strongly believe that the design of our environment impacts our mental and physical health; this belief is validated by scientific research. The impact that could be achieved by improving this particular environment seemed to have such great value that I couldn't say no. Being able to offer my skills as a designer to indirectly help such a worthwhile cause seemed the least I could do.
BFL: What have been some of the challenges of the job and how did you overcome them?
Sophie: One of the biggest challenges was to meeting commercial standard requirements of materials – which would be suitable for a healthcare environment without being able to make any permanent changes to the room and whilst sticking to budget. This took a fair bit of material research to resolve, particularly for the walls and flooring but I think we eventually found solutions that met all the set requirements and satisfied all parties!
BFL: What is the biggest sense of satisfaction around completing the job?
Sophie: The very short time frame meant that work had to move very quickly on the project, but it has been incredible to see how much has been achieved. Especially considering the clear out and build only took place under 7 days! It could not have been done without the incredible support from the Barrier Free Living team though.
BFL: Any unexpected surprises along the way?
Sophie: Maybe not so much a surprise, but one of the greatest pleasures I've had from working on the project has been meeting the wonderful team and staff behind the incredible work being done at Barrier Free Living. I have the utmost respect and admiration for the work that they do, and I have been bowled over by their support for me whilst I have been working on the room. I hope that the new room design can be (even if small) a demonstration of appreciation to the team.
BFL: Final thoughts:
Sophie: I have learnt so much from my experience on this project, particularly about designing for a space which demands consideration for such a vast range of needs and restrictions. I am currently working on a design guidebook which I hope will enable other charities working in similar environments with similar restrictions to use the same design principles to be able to transform their environments for improved mental and physical health.
Bio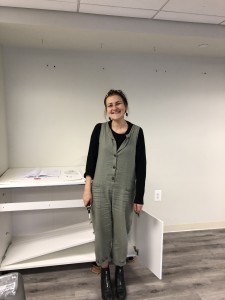 Sophie (above, working on the BFL Apartment's lounge) is a designer and creative researcher working at the intersection of design, science, technology and craft. After graduating from her bachelor's degree in Textile Design she spent two years working at The Fabrick Lab in Hong Kong where she developed cutting-edge materials for experimental installations and bespoke interior environments. She is currently studying for her MA/MSc in Global Innovation Design at the Royal College of Art and Imperial College in London where she is continuing to challenge her practice; focusing on material design for health and wellness applications.
Freedom House DV Shelter Virtual Tour 
Take a virtual tour of Barrier Free Living's Freedom House domestic violence shelter for survivors with disabilities. Get an up close and inside look at what makes our shelter absolutely unique and vital.
Link to film here .
Breaking Barriers In DV Newsletter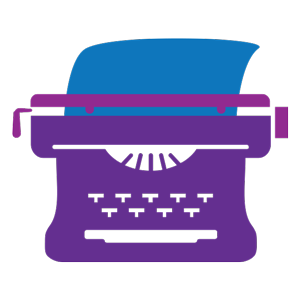 Each month BFL team members share their expertise and experience around our work with survivors of domestic violence with disabilities. Email us to sign up: [email protected]
Stories of Survival
The great benefit of our work at Barrier Free Living is the opportunity to see the results of our programs and hear the stories of inspiration, persistance and survival that our programs have helped to create.


"My family feels safe. We are learning to be strong and to love ourselves. I am so glad we are here" More about  Olga's Journey of Hope


"I wanted to volunteer here because I wanted to be part of the great mission that Freedom House has for women and children." More about  Bethelihem's Journey of Hope