Services and support for  survivors of domestic violence
with disabilities
About BFL
After 28 years of operation, Barrier Free Living's Transitional Housing program closed its doors on April 30, 2018. Barrier Free Living Founder, President/CEO Paul Feuerstein reflects on this ground-breaking program's successes and challenges working with people with disabilities in New York City. Read his letter here. 
More
Meet Us
Aja Ruffin, a Resident Aide at Freedom House joined the team in 2016 with a drive to help others.  Read Aja's story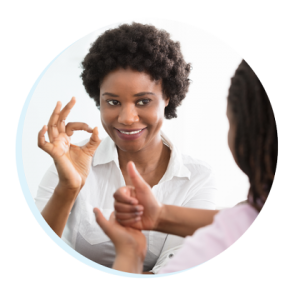 Deaf Services
Learn how BFL's Deaf Services team works with survivors of domestic violence.
Domestic Violence and Disabilities Issues and Solutions
4 times

Children and adults with disabilities are four times more likely to be abused then those without disabilities.
23
There were 23 families at BFL's Freedom House shelter who moved into their own homes in 2017.
543
In the first four months of 2018, BFL's Secret Garden received 543 domestic violence hotline calls
Your can make a difference. Volunteer, get your company involved in a project, or donate to BFL.
Learn How You Can Help