After 28 years of operation, Barrier Free Living's Transitional Housing program closed its doors on April 30, 2018. Barrier Free Living Founder, President/CEO Paul Feuerstein reflects on this ground-breaking program's successes and challenges working with people with disabilities in New York City. Read his letter here. 
More
Meet Us
Aja Ruffin, a Resident Aide at Freedom House joined the team in 2016 with a drive to help others.  Read Aja's story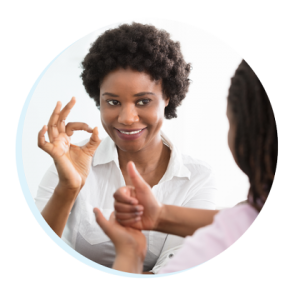 Deaf Services
Learn how BFL's Deaf Services team works with survivors of domestic violence.
Domestic Violence and Disabilities Issues and Solutions
4 times

Children and adults with disabilities are four times more likely to be abused then those without disabilities.
9000
In the NYC metropolitan area, women with a disability earn on average nearly $9,000 less than women without disabilities, and $16,000 per year less than men without a disability.
7,251
The number of outreaches done by BFL's Secret Garden team in 2018. The team also offered 2,339 face to face session to survivors of domestic violence.
Your can make a difference. Volunteer, get your company involved in a project, or donate to BFL.
Learn How You Can Help