10th Annual ReelAbilities Film Festival: New York MARCH 8-14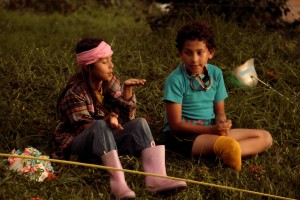 The ReelAbilities film festival will open on March 8 at the Marlene Meyerson JCC Manhattan, 334 Amsterdam Avenue at 76th Street, with the previously announced 2017 Tribeca Film Festival-winner Keep the Change and will close with the New York Premiere of Matan Yair's Scaffolding, which took the Best Israeli Feature and Best Actor awards at the 2017 Jerusalem Film Festival.
Other film highlights include Mad to Be Normal starring Elisabeth Moss, David Tennant, Gabriel Byrne, and Michael Gambon; Mind Over Matter, a documentary featuring a fan with Cerebral Palsy who—inspired by the music of Korn and against all odds—strives to make it as a rock and roll guitarist; Mind/Game: The Unquiet Journey of Chamique Holdsclaw, which tells the story of basketball phenom Holdsclaw from her WNBA stardom to her struggle with mental illness; and the 2018 Oscar nominated short documentary film Heaven Is a Traffic Jam on the 405.
During the opening night ceremony, the NYC Mayor's Office of Media and Entertainment will present a Spotlight Award to actress and activist Marlee Matlin for her significant contributions to NYC's creative community, and for serving as an inspiration and a role model to artists with different abilities. The Spotlight Award illuminates excellence in the film, television, music, publishing, digital content, and advertising sectors. Previous honorees include hip-hop artist Nasir "Nas" Jones and "Late Night" host Seth Meyers.
Tickets now on sale! 
Visit reelabilities.org/newyork/ for full festival details and venue locations.
ReelAbilities is dedicated to promoting awareness and appreciation of the lives, stories, and artistic expressions of people with different abilities. Award-winning films are presented in various locations throughout the NY metropolitan area. Discussions and other engaging programs bring together the community to explore, discuss and celebrate the diversity of our shared human experience.
ACCESSIBILITY INFORMATION
ReelAbilities strives to include all people. ReelAbilities presents all films with open captions, and all venues are wheelchair accessible. The JCC offers CART at every event and Audio Description for every feature film screening and several short films. ASL interpretation and information in Braille are available upon request.
ReelAbilities is made possible by support from the J.E. and Z.B. Butler Foundation,The Dobkin Family Foundation, F.Y. Eye, UJA Federation, and the New York City Department of Cultural Affairs.