A Fair Shake For Youth At Freedom House Domestic Violence Shelter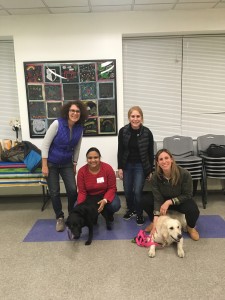 A Fair Shake for Youth, a New York City based organization that helps kids build social and emotional skills through a hands-on therapy dog program, held workshops at Barrier Free Living's Freedom House Domestic Violence shelter this October.
Freedom House offers crisis shelter to survivors of domestic violence with disabilities, and their families. (Watch a virtual tour of Freedom House here.)
Fair Shake works with therapy dog teams, including a black lab mix, a golden retriever and a cattle dog mix. The workshops include hands-on activity about "learning to give commands/teach tricks, or playing cognition games where the dogs find treats in games and the kids encourage the dogs and compare approaches and frustration levels of each dog, or agility – encouraging each dog over a jump or through a tunnel." The workshops also include lessons from the Fair Shake's curriculum related to body language – verbal and non-verbal communication.
In photo: left to right,  Audrey Hendler (Fair Shakes For Youth Founder & Executive Director) and volunteers – Mansi Agarwal (and her dog Suki), Kelly Becker, and Jane Moskowitz (with her dog Josie).