Abilities Expo 2018

Blog contributor Julia Alberino. Julia retired in 2011 after more than thirty years as a health care administrator in both the public and private sectors. She was a frequent speaker at professional conferences, and co-founder of an advocacy group that worked to maintain and improve services for Medicaid beneficiaries, including elderly and disabled individuals.
The first weekend in May was an exciting time for people with disabilities, their caregivers, relatives, friends, and advocates. That was the weekend that The Abilities Expo 2018 came to the New York Metropolitan Area, specifically the New Jersey Convention & Expo Center in Edison, New Jersey this May
Nearly 40 years old, The Expo bills itself as the "go to" source for the Community of people with disabilities, their families, seniors, veterans and healthcare professionals. The Expo features new technologies, new possibilities, new solutions and new opportunities. This year was no exception. There were close to 200 exhibitors, ranging from technology vendors, to car dealers, to equipment vendors and service agencies. Events included all-day acupressure for stress relief, an assistive climbing wall, a wheelchair repair shop, and face painting for children.
The logistics to get there from New York were a bit challenging, but on both days I met many people with mobility challenges who had braved Penn Station with its inadequate elevators to get to the Metuchen Station, which was the nearest station to the Expo.
The shuttle from the Station to the Expo had some glitches, I'm told (I used a regular taxi to not take a place on the shuttle from someone who needed it more than I did). I met one enterprising young man who told me he'd ridden his motorized wheelchair the four miles from the station to the convention center. This was scary to me, given that the road was a busy highway with no sidewalks, but he was completely undaunted. As he put it, "I just put on my headphones and off I went." He did say he planned to take the shuttle back.
Once I arrived, my first impression of Expo was that it was overwhelming. Methodically walking the aisles with the helpful directory, and just taking it all in was quite an experience. The aisles were wide to easily accommodate wheelchairs. There were, for a change from some venues, adequate accessible restrooms and changing stations.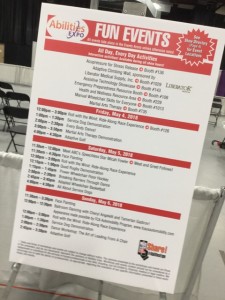 Besides the special events, there were the exhibits themselves, some of which were what you'd expect: wheelchairs, ramps, beds, clothing; and some of which were more surprising. I was impressed by how genuinely nice the staff were. The vendors and other exhibitors were cheerful and helpful.
On the subject of wheelchairs and mobility assistance vehicles, the ones at Expo ranged from standard to the super deluxe classic Gatsby, pictured below. At more than double the price of a standard mobility scooter, I'm not sure how obtainable this one would be for the average person who needs such a device, given that insurance tends to pay for standard versions.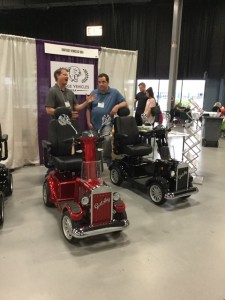 Another set of products that caught my attention was a line of adaptive clothing for girls in wheelchairs. I met Barbara, the designer of the è Ispirante line. She confirmed what her publicity said, that she wants to give people more exciting and fashionable options. The clothing is indeed attractive.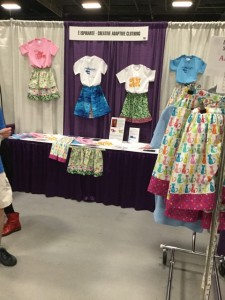 I also met Robin Wearley, who has designed and markets a transfer sling for the evacuation of disabled persons from common carriers (planes, trains), fires, and other situations in which safe and efficient evacuation may be necessary. The sling is called Adapts. Robin was inspired by her experience in the travel and health care industries to identify an unmet need. As she explained:
"We're trained to evacuate a disabled person by gripping him or her under the arms and behind the knees. That doesn't always work, especially if the person is an amputee and/or wears a prosthetic."
She demonstrated the sling for me, and I could see how easy and lightweight it is to use. It's designed to be carried by two-six people, has handles on the sides, is lightweight and folds to small size. The company has just launched; as Robin told me half-jokingly in response to a question, "We're not quite ready for Shark Tank yet."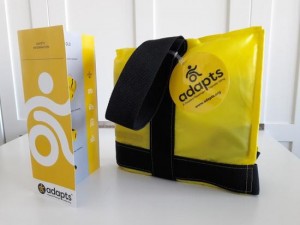 A device I really appreciated is the Orcam, which is an intuitive wearable (attaches to eyeglasses) device wit a smart camera. It is designed to assist people who are blind or visually impaired.
Eve Posner, who represents the company that makes Orcam demonstrated it for me. Pointing the camera at a book, the device read me a paragraph of an Agatha Christie mystery. When she pointed the camera at me, it said, "There is a woman standing in front of you."
She also demonstrated how the smart camera identifies colors, denominations of currency, and grocery products. The only disadvantage I noted is that Orcam needs to be connected to a power source. Eve said most users put the power source either in their pocket or clipped at the waist, but she did tell me that the Orcam also comes in a more expensive Blue Tooth model as well.
These are just some of the many innovations I saw at Expo. If Expo comes to a city near you, it would be worthwhile to attend. The next three locations are Chicago from June 29-July 1; Houston from August 3-5; and Boston from 9/21-23. Expo will next be in the New York Metro area next May.