Advocate Spotlight: Vangie Leon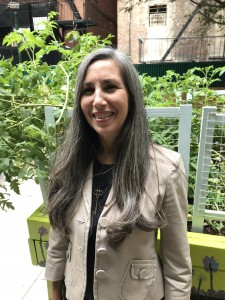 After over a decade at Barrier Free Living's Freedom House domestic violence shelter for people with disabilities,  Family Associate/Board of Education liaison Vangie Leon is still driven by the spirit of love and compassion that she discovered when she started the job.
We caught up with Vangie to talk about the work she does with children, the challenges she faces and the lessons she continues to learn.
BFL:
Tell us how you first became familiar with Freedom House, and what drew you to working here. Also, tell us a little bit about the work you do day to day.
Vangie:
I honestly did not know anything about Freedom House. I was comfortable and perfectly content working at another shelter. I was given a choice to provide educational services to the children at Freedom House along with two, and eventually three, other shelters without any co-worker support. I am fully persuaded, now more than ever, that God answered my prayer for guidance in this decision. Working at Freedom House has been one of my greatest blessings! Not only because of the lovely families I have met, assisted and learned from, but also the amazingly resilient staff. In the, almost 12 years, I have worked here, many have come and gone, but the same Spirit of Love and Compassion still dwells here!
My main duties, as a school liaison, are to assist parents with school enrollment and school safety transfers, as well as attendance monitoring and improvement. This entails a lot more than the previous simple sentence, especially because I provide these services, and more, for four shelters. So, please forgive me, past, present and future, if I zip by you with that, "I have to meet a new family in 5 minutes that is in a site it will take me 15 minutes to get to…" look. With all this, I love what I do, especially at Freedom House; and if I dare complain, please remind me of this love.
BFL:
Can you share a situation where you were really proud/happy with the work you were doing.
Vangie:
Even as I age, I love learning new lessons. Such was the case, when a mother's pleading for her child to be enrolled in a small, exclusive school. (This child had below average grades and attendance.) I went against my usual instinct to find another school and advocated for this child to be enrolled in her mother's school of choice. Against all odds, she was accepted! Not a proud moment, but a very humbling one.
This experience taught me not to be presumptuous, but to go the extra mile for all children, regardless of what their records show. I must add: NEVER underestimate the One who answers prayers, especially on behalf of others.
BFL:
What are some of the challenges you face and how do you work through these?
Vangie:
Every job has its challenges, and one of the most conflicting ones I have is staying true to my responsibility to assist in improving the attendance of students in temporary housing. Often times, attendance is not the priority of our families. When the parents explain all that they are facing: health issues, financial hardships, depression… it's understandable that school attendance is not as important to them.
It may be a process to show attendance improvement, but first is making sure their basic needs are met. Thank God we work in community and it's a matter of communicating with the social workers, childcare, OT… and helping them understand that in the long run, good attendance is very important to the academic success of every child.
BFL:
What have you learned most from working with the residents and young residents at Freedom House?
Vangie:
I have learned that people are truly fearfully and wonderfully made. There is such promise, purpose and possibility in ALL people! I read this quote recently: "The only disability in life is a bad attitude." – Scott Hamilton. I'm not saying that this is the only disability, but it's probably in the top three!
BFL:
What do you like to do in your spare time?
Vangie:
I use my allotted time to walk in freedom by learning from the One who has set me free. (My real answer is too long to write on this Spotlight article, but I welcome face to face conversations.)