Autism Awareness Month, Deej Documentary A Winner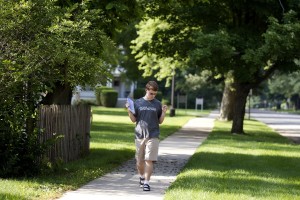 Blog contributor Julia Alberino. Julia retired in 2011 after more than thirty years as a health care administrator in both the public and private sectors. She was a frequent speaker at professional conferences, and co-founder of an advocacy group that worked to maintain and improve services for Medicaid beneficiaries, including elderly and disabled individuals.
We're a little more than halfway through Autism Awareness Month, and I've been thinking about a remarkable young autistic man I met last month at the ReelAbilities film festival in New York City.
During the festival, I attended a screening of "Deej," a documentary about David James Savarese, also known as D.J., or as he prefers to be called Deej, a non-speaking autistic young man. Deej and his family allowed a filmmaker into their lives for six years.; this film is the result.
When I entered the lobby of the Lower East Side Girl's Club, I gravitated toward the only other adult in the lobby. She turned out to be Emily, Deej's (adoptive) mother. She introduced me to Deej, who was vibrating with excitement. I asked him if was looking forward to seeing his film with this audience. He nodded enthusiastically. Emily elaborated that they were both very much looking forward to the screening.
She added that in another venue during the festival, "Deej's" introductory speaker had been a physician, and the question and answer session after the screening was dominated by physicians who "see everything through a medical lens."
Emily assured me that "That's not what we're about. We're looking forward to the questions from the girls and others tonight."
We chatted about the film and Emily told me that I'd see that while Deej is still in college at the films end, he has since graduated and is working full time. She said Deej has always been about breaking down barriers in his life. I asked her if she and her husband had had to fight to get Deej's early education. She was frank noting that it helped that she'd worked in the autism community in Gainesville,  FL.
While Deej is a non-speaking autistic person, that doesn't mean that he is non-verbal. He communicates by writing, most often with an assistive device that speaks what he types, or a computer on which he types and someone reads aloud what he has written. One of the segments of the film shows a part of a play Deej wrote while he was in high school. In it, the characters portray people with various types of different abilities, and the message is clear that non-speech doesn't equate to non-thinking.
Deej himself says (I will use verbs like "says" to avoid the awkward constructions about typing, interpreting, etc.) in another part of the film that learning to read and write unlocked the world for him. He mentioned that things clicked around 4th grade when he recognized the power of words. Deej is a poet and occasionally a playwright. Some of his poems are spotlighted in the film. The venue, the club's planetarium, with its enormous screen, was perfect for showcasing the poems.
I would recommend if possible that one see the film at a screening where Deej is present to answer questions. The next time that will be possible in the New York City area is at Purchase College on April 24  https/::www.purchase.edu:live:events:11878-deej-film-screening.  Deej is impressive in the film, but more charming in person.
Teenaged girls dominated the audience this night. In my view, they were everything Deej and Emily could have hoped for in getting away from the medical lens. The girls were interested in Deej's writing, his college experience, his job, where he lives and whether he is still close to his parents. Deej patiently wrote his answers and Emily read them aloud. One young girl, smaller and perhaps younger than the others, left her seat to come up close to where Deej was sitting to tell him how much she admired him and what an inspiration he is to her. It was as if she was the self-appointed spokesperson for the entire audience.
We all left inspired, and perhaps with a much greater understanding of what some autistic persons can achieve thanks to improved education and available assistive technology.