Axis Offers Breathtaking Vision Of Integrated Dance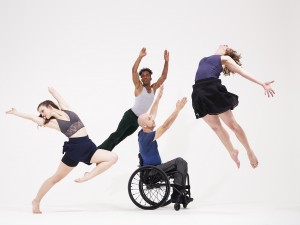 I headed to the New Jersey Performing Arts Center on November 17 to see the Axis Dance Company, expecting an enjoyable evening out of the city. What I experienced was a jaw-dropping, awe inspiring night of integrated dance performance.
The show, which includes performers with and without disabilities working together, featured a trio of moving dances: Dix minutes plus tard by Sonya Delwaide; Divide, by Marc Brew; to go again by Joe Goode. The pieces, both individually and as a program, got at the heart of not only what it is to live with a disability, but what it is to be human.
"Our mission is to change the face of dance and disability," says Judith Smith, Axis Artistic Director and Founder.
Founded in 1987, AXIS paved the way for physically integrated dance.  Since its inception, AXIS has expanded from in-house choreographers to various commissions from outside the company.
"We want to weave physically integrated dance into the fabric of this country," says Judith."The art speaks for itself. You go away with a different idea of human potential and what's possible."
In May 0f 2016, through funding from the Doris Duke foundation, AXIS Dance Company is hosting a national convening to discuss the future of physically integrated dance in the United States with key stakeholders in the field at Gibney Dance in New York City.
During three days of conversations among key stakeholders from the field of physically integrated dance, participants will explore the opportunities for integrated dance and barriers to dance for dancers with physical disabilities. This landmark event will also welcome physically integrated dance experts from the UK, whose exemplary programming offers innovative models and fruitful directions for physically integrated dance in North America.