Barrier Free Living Apartment Staff Attends NASW Conference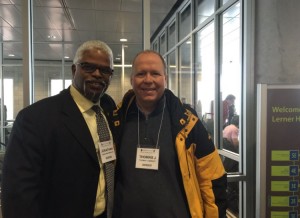 Tom Obrzut, Director of Barrier Free Living Apartments (photo, at right)  and Jonathan Berkley, Social Worker at BFL Apartments (at left), attended Social Work in the City, the 2nd Annual National Association of Social Workers Conference held March 14 in New York City.
The conference enables licensed social workers to obtain 6 continuing education contact hours while sharing in a collective experience with a large gathering of colleagues, peers and leaders in the field.
The New York City Chapter of the National Association of Social Workers (NASW-NYC) is one of the largest chapters of NASW in the country. Founded in 1955, NASW-NYC represents professional social workers who are working throughout the five boroughs, primarily in public and non-profit organizations. Social workers are also in private practice and in other for-profit service related settings.