Barrier Free Living Begins Work On Updated Mission Film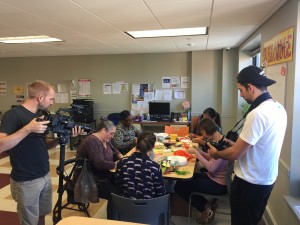 Barrier Free Living (BFL) has begun work on an updated version of its mission film, depicting the agency's growth and evolution since the original film debuted in 2012.
The film, created in collaboration with DGNL , is a visual representation of the agency' s mission, vision and values. The new version will focus on the stories of the people that the agency works with in its programs, shelters and permanent housing complex.
BFL works with people with disabilities, including formerly homeless individuals and survivors of domestic violence and their families. The agency celebrates its 40th anniversary in 2021.
The film is set to debut in 2018.
Photos: At top, DGNL films an occupational therapy group at BFL.  Below, DGNL founder Blake Drummond sets up to interview two of the 91 kids living at BFL Apartments.