Barrier Free Living Celebrates LGBTQ Pride Month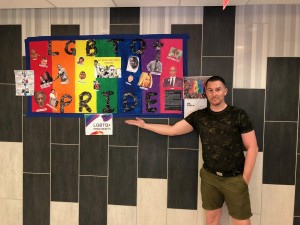 Barrier Free Living (BFL) celebrates LGBTQ Pride month this June.
BFL works with members of the LGBTQ community year round in our shelters and programs.
The month of June was chosen for LGBTQ Pride Month to commemorate the Stonewall riots, which occurred at the end of June 1969. As a result, many pride events are held during this month to recognize the impact LGBTQ people have had in the world. Learn more about NYC Pride month activities here.
Barrier Free Living Apartments honors pride with a colorful display in the lobby, photo above.