Barrier Free Living Honored With Caritas Medal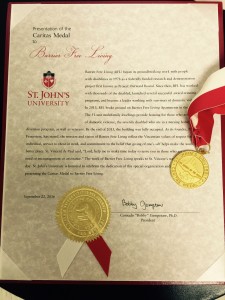 Barrier Free Living was one of the honorees at St. John's Universities' Vincentian Convocation, held on September 22 in St. Thomas More Church at the Queens campus. Each year, the event honors people and organizations whose lives and work mirror the University's mission.
The Caritas Medal was presented to Paul Feuerstein, the President/CEO of  Barrier Free Living, for the agency's powerful work assisting those with disabilities.
"As I listened to the citations describing the remarkable accomplishments of our honorees today, it is very clear they are a special group of individuals and organizations who exemplify the legacy of St. Vincent de Paul," said Conrado "Bobby" Gempesaw, Ph.D., President of St. John's, in his Convocation address.
Other awards presented:
Vincentian Mission Award: David L. Gregory, J.S.D., Dorothy Day Professor of Law and Executive Director, Center of Labor and Employment Law, St. John's School of Law
St. Elizabeth Ann Seton Medal: Marie C. Fouché '11G, Ladies of Charity International Representative to the Vincentian Family Haiti Initiative Commission and Ladies of Charity at St. John's University
St. Vincent de Paul Medal: Stephen Hernon '07GEd
Frédéric Ozanam Award: Don Bosco Workers, Inc.
President's Medal: Rev. Stephen M. Bicsko, C.M.
Conferral of the Degree of Doctor of Pedagogy: Rev. Dennis H. Holtschneider, C.M., Ed.D., President, DePaul University