Barrier Free Living Receives 100 Scarves At Bryant Park Event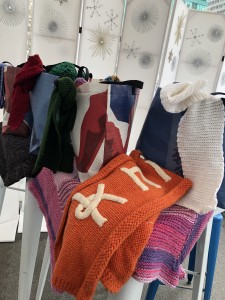 Barrier Free Living (BFL) received nearly 100 gorgeous hand-knitted scarves at an event at New York City's Bryant Park today, as part of the annual Found But Not Lost Program.
BFL Director of Communications Scott Hess spoke at the event, expressing the agency's gratitude.
"We are incredibly grateful to Bryant Park Corp. for the scarf donations again this year. Receiving a beautiful new scarf means so much to the residents and their kids at our domestic violence shelter and programs! It truly offers a ray of light."
Participants in Bryant Park's knitting classes, along with the general public, create the scarves throughout the year. The program is coordinated with Knitty City, the famed Upper West Side yarn emporium, whose owner, Pearl Chin, passed away last year. This year's distribution event of more than 600 scarves also paid tribute to Ms. Chin, who opened Knitty City in 2006.
"This year marks the tenth anniversary of Bryant Park's association with Knitty City and sixth for the 'Found but Not Lost' program," said Dan Biederman, executive director of Bryant Park Corporation. "It's great to have a partner dedicated to a community service that provides a measure of warmth to those who need it. I particularly thank our program coordinator Alice Cashman, who developed the concept with Ms. Chin."
In addition to BFL, various groups received scarves at the event, including the Center for Urban Community Services (CUCS) in Harlem.
As an homage to Ms. Chin, Bryant Park dedicated one of its iconic green bistro chairs inscribed with her name and Knitty City's motto, "We'll Keep You in Stitches." Ms. Chin's son Zac accepted the honor (photo below).
In past years, the scarves would be draped on benches and trees in the park, with each bearing a "Found but Not Lost" tag which instructed the taker to use it if they needed it, or to donate it to an indigent person. Because of the pandemic, the park was forced to suspend that aspect of the program and instead give the scarves directly to charitable non-profit organizations. Also, scarves are normally knitted at Bryant Park's summer knitting classes, but because of Covid, volunteers made them at home last year.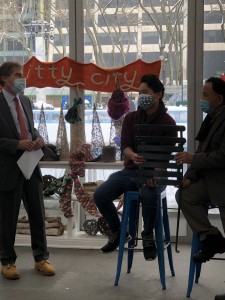 Bryant Park Corporation (BPC) is a not-for-profit, private management company founded in 1980 to renovate and operate Bryant Park in New York City. It was established by Daniel A. Biederman and Andrew Heiskell, with support from the Rockefeller Brothers Fund. BPC was formed to restore historic Bryant Park, which had suffered a severe decline in conditions in the 1970s. A 15-year agreement was signed in 1988, entrusting management and improvements to BPC. The park reopened in 1992 after four years of renovation with a budget six times the level under prior city management. It is the largest effort in the nation to apply private management backed by private funding to a public park, and it has been a success with public, press, and nearby institutions. BPC shares its management team with the 34th Street Partnership. The two companies share a management philosophy.