Barrier Free Living's Freedom House Partners With Gibney Dance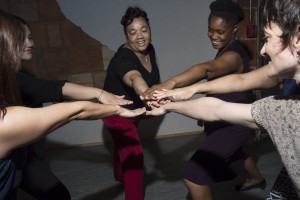 Contributor Sara Eldridge, LMSW, is a Senior Social Worker at Barrier Free Living's Freedom House domestic violence shelter. Sara is a licensed social worker who received a Master's Degree in Social Work from Silberman School of Social Work at Hunter College in 2015.  Sara has been a social worker at Freedom House since 2015, where she provides individual and group counseling to adults, children and adolescents. Prior to Freedom House she worked with youth in alternatives to detention and incarceration programs, student veterans and crime victims. Photo by Julieta Cervantes.
Barrier Free Living's Freedom House domestic violence shelter for people with disabilities is committed to supporting survivors as they develop healthy coping strategies and learn to reconnect with both their minds and bodies.
This year, we partnered with the New York City based Gibney Dance company to bring an innovative program of movement to our residents.
Trained members of Gibney Dance Company taught workshops to the residents, drawing from their "artistic practices to address the needs of survivors such as self-empowerment techniques and finding voice through movement. [The] workshops underscore clinical themes, address group dynamics, and explore issues common among survivors of domestic violence."
At Freedom House, our team believes that healing from domestic violence often involves the body as well as the mind. Many survivors experienced physical abuse, in addition to emotional, financial and psychological abuse, and they struggle to feel safe in their bodies after they leave the situation.  This is especially true if they experienced significant injury because of the abuse.
Survivors with disabilities who already experienced pain or discomfort may have had it compounded by abuse tactics like taking away mobility devices, refusing to transport them to medical appointments, or withholding medication. As a result, when they leave the abuser their physical health may be significantly worse.
Beyond the actual physical effects of the trauma, such as chronic pain, survivors may experience flashbacks or episodes of dissociation (detachment from present experiences). These episodes can lead survivors to feel disconnected from their bodies or even unsafe, since they are often caused by triggers like smells, sights or physical sensations that remind them of the trauma.
Survivors may try to cope with their fear, stress, and anxiety through unhealthy eating habits, excessive exercise, self-harming behavior, or substance use. All these tactics can help survivors temporarily feel more in control of their bodies and their emotions or even numb to the pain, even though they can be destructive in the long run.
The Gibney workshops offer a healing way for residents to cope with these issues, and reconnect body, mind and spirit through movement.
Rather than a traditional dance class, these workshops offer an opportunity for survivors to move their bodies intuitively, both individually and in collaboration with other group members. The goal is to help survivors feel more in control of their physical selves, learn to care for themselves, and reduce stress.
For survivors of domestic violence who were not able to be in control of their own lives, the movement workshops are a unique opportunity to reconnect with their bodies without pressure or expectation. They are also easily adaptable to meet the needs of people with disabilities.
Freedom House is proud to offer trauma-informed programs like the Gibney movement workshops that help survivors regain control and express themselves.