Barrier Free Living's Freedom House: Resident Garden Group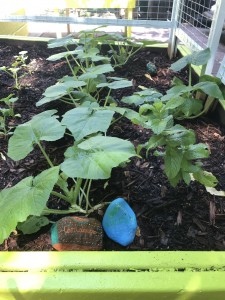 Residents and Occupational Therapy interns at BFL's Freedom House domestic violence shelter worked together this spring to bring new life to the shelter garden.
"Residents gain self-confidence and a sense of control as they see the decisions they make lead to real changes in the aesthetic of the yard and the growing of their seeds," says Bella, a member of the OT team.
Freedom House offers safe haven to families, along with a variety of services. View the Freedom House virtual tour here.
In addition to general gardening, an old fence was torn down and new fence installed, says Bella. Residents and interns painted the old garden beds and new fence with bright paint colors chosen by the residents.
"Residents chose the seeds to start and planted them inside in cooler weather. In the last couple of weeks they have been replanted outside and are really starting to take off. Hopefully in a few weeks our healthy cooking groups will be using tomatoes, cucumbers, zucchinis, spinach, bell peppers, cantaloupe, and jalapenos from our garden to cook our healthy meals! "
Watch our BFLMinute about the garden club at BFLA here.