Barrier Free Living's Secret Garden: A Look At Domestic Violence & Pets
Contributor Valerie is a Social Worker (LMSW) at Barrier Free Living's Secret Garden Non-Residential Domestic Violence Program.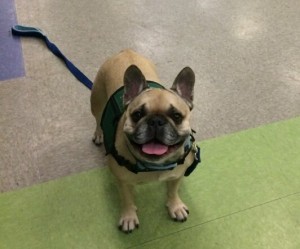 Often, when we talk about reasons a person might not leave a Domestic Violence situation, we think of children, finances, safety, and a place to live.
However, less often we think of pets.  Just as much as fellow humans are family members, so are our furry friends. Knowing the strong emotional bond people have with their pets, abusers can exploit this to get control over the survivor; potentially preventing the person from leaving or forcing them to return.
Service and therapy animals are also abused and used as a way to exploit the person's disability and prevent them from accessing care. As many as 48% of domestic violence survivors delay leaving abusive situations because they worry what will happen to their pets (Sheltering Families & Animal Together, Allie Phillips).
Additionally, even if a person has a safety plan set up and is ready to leave, if they are not able to find a safe place for their pets or a shelter that will allow them to bring their pet, they might choose to stay to keep the pet safe. This is an unfortunate and real barrier for pet owners, as only 3% of domestic violence shelters nationwide are able to accommodate victims' pets. (ASPCA).
Luckily, survivors have options. Reaching out to community based organizations can help to find ways to escape abuse and ensure both the pet's and the survivor's safety. They can assist with safety planning, finding a shelter that will allow pets, and/or assist with finding a safe foster home to house pets temporarily.
Additionally, pets have legal rights in many states. In New York in 2006, an amendment was made to Family Court Act § 842 stating survivors were now allowed to include pets owned by them or their children to be included in Orders of Protection. This legally protects the pet from being harmed or killed, and if a crime is committed the abuser will go to jail.
If you or someone you know is contemplating leaving an abusive situation and has a pet, below is a helpful safety plan to consider (from the Mayor's Alliance for NYC's Animals)
Be Prepared with a Pet Go Bag
Help pet owners be prepared. Suggest they store the following pet items in a safe place:
Vaccination and other medical records
Medications (if any)
Dog license proving pet ownership
Supplies, including bowls, bedding, toys, grooming supplies, muzzle (if needed)
Identification tag
Leashes
Cat carrier or dog crate
A small supply of pet food and water
A pet information page that can be given to a caretaker that describes feeding schedule, behavior or personality issues, medication, etc
Resources:
URIPals
ASPCA
RedRover
Safe Place for Pets 
Mayor's Alliance for NYC's Animals