BFL 5th Annual Clothesline Event Builds Community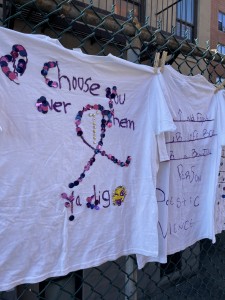 Staff, tenants and other domestic violence service providers gathered for Barrier Free Living's 5th annual Clothesline Project 2022 on Oct. 20 at our supportive housing program in the Bronx.
The amazing BFL Clothesline featured dozens of t-shirts created by tenants, residents and participants from our domestic violence programs. The event, which was in the parking lot area, drew the local community and supporters who were able to create and decorate their own t-shirt with a message relating to domestic violence.
The clothesline project is a worldwide movement created to bring awareness to the issue of violence against women men and children. For those who have been affected by violence, it is a means of expressing their emotions by decorating a t-shirt.