BFL Apartments Thanksgiving Event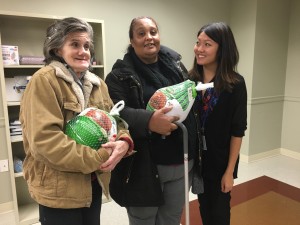 Barrier Free Living apartments, which opened summer of 2015, held a Thanksgiving dinner celebration for tenants and their families on November 24.
Program Director Thomas Obrzut worked with his dedicated staff and the coordinator of BFL's Occupational Therapy program Patricia Motus to create a buffet and celebratory atmosphere. Tenants brought dishes to the community event, which was made possible due to a private donation.
Learn more about how to support events like this at Barrier Free Living.
Barrier Free Living Apartments, a two building complex of 120 apartments in the Bronx,  provides safe, accessible homes to families with a head of household who is a survivor of domestic violence and who has a disability.  We also have studios for singles (survivors of domestic violence with a disability; veterans with disabilities.)
Our in-house support services include counseling, occupational therapy and support groups.