BFL Honors LGBTQ+ Pride Month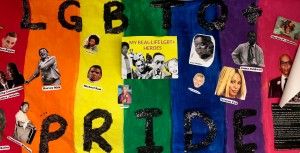 June is 
Pride Month
 nationwide, which is an opportunity for the world and for members of the LGBTQ+ community to celebrate their identity and their relationships.
Barrier Free Living 
is proud to provide services to members of the LGBTQ+ community. (view our BFLMinute honoring pride 
here
.)
Sexual orientation and gender identity are not barriers to accessing any of our programs, including our emergency domestic violence shelter 
Freedom House
, 
Secret Garden
 or 
BFL Apartments
. (View a virtual tour of Freedom House 
here
.)
This connection to the LGBTQ community also sheds light on some startling facts that we address year round at our programs.
LGBTQ+ people of color and people with disabilities are disproportionately more likely to report domestic violence. A recent survey of anti-violence programs serving the LGBTQ+ community found that 65% of their clients are people of color, including 21% who are Black or African American, 27% Latino and 4% Asian. Nearly half of their clients, 44%, report having a disability (source: National Coalition of Anti-Violence Programs).
Rates of domestic violence in the LGBTQ+ community are equal to or greater than that of heterosexuals and cisgender individuals (source: CDC). Forty-four percent of lesbian women and 61% of bisexual women report experiencing rape, physical violence, and/or stalking by an intimate partner, compared to 35% of heterosexual women. Among men, the numbers are 26% for gay men and 37% for bisexual men, compared to 29% of heterosexual men.
The numbers are even worse for transgender individuals, 54% of whom report having experienced intimate partner violence, compared to one third of the general population (source: National Center for Transgender Equality, CDC).
As with heterosexual and cisgender relationships, domestic violence in LGBTQ+ relationships is the use of coercive tactics by an abuser to maintain power and control.
Abusers may threaten to out victims who have not disclosed their sexual orientation or gender identity, potentially jeopardizing their relationships or employment. Abusers may isolate victims from the larger LGBTQ+ community, making it difficult to access support.
Trans survivors may be referred to as their dead (pre-transition) name or have their gender identity shamed or ridiculed, such as being called an "it" or told they are not a "real" man or woman.
Discrimination against LGBTQ+ individuals can also contribute to domestic violence. For example, a transgender individual who lost their job because of anti-trans bias may stay with an abuser who provides financial support, especially if they need to pay for hormone treatment or gender affirming surgery. A gay person who has been thrown out of their home because of their sexual orientation may move in with an abuser to avoid homelessness.
Anti-LGBTQ+ bias also affects the willingness of LGBTQ+ survivors to report domestic violence. They may fear discrimination from police officers, district attorneys, medical providers, counselors or shelters.
Survivors may be reluctant to disclose their gender identity or sexual orientation to service providers who do not explicitly state that they provide services to the LGBTQ community. Transgender survivors who do not have documentation of their gender identity or chosen name may be forced to use their legal name or gender assigned at birth.
To learn more about our services reach out to our programs 
here
.