BFL Keynote Address Kicks Off St. John's Turn Off The Violence Week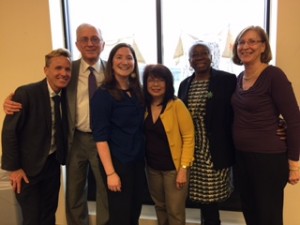 BFL President/CEO Paul Feuerstein kicked off St. John University's Turn Off The Violence Week with a moving keynote address. Joining Paul was Zenaida T., who shared her story as a survivor of domestic violence.
Picture are (L to R): BFL's Scott Hess, Paul Feuerstein, St. John's Hannah Stravers, Zenaida, Secret Garden's Georgette Delinois and St. John's Ruth DeRosa.