BFL Participates In Support Center's Leadership Collaborative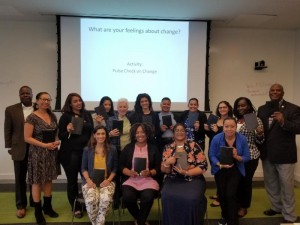 Barrier Free Living's Chief Program Officer, Cynthia Amodeo, was part of the Support Center's 2018 Leadership Collaborative this spring (photo above) which was offered in partnership with American Express.
"As a leader in a non profit there are a lot of demands on your time. This program is important to step away from the day to day and evaluate your leadership style, learn how to fine tune your skills, and network with other leaders in the field."
Cynthia Amodeo, LMHC, Chief Program Officer at Barrier Free Living
The Collaborative serves as Support Center's fourth leadership cohort and looks to broaden the scope for the Trajectory Leadership Group. The program integrates existing elements of Support Center's leadership and supervision workshops into a management community of practice.
The Collaborative looks to introduce an opportunity for social and public sector professionals interested in developing their leadership capabilities and management skills for executive roles. To learn more about the program and stay updated with upcoming sessions, click here.
Why are programs like the Leadership Collaborative important to professional development?
"I personally think that programs like the Leadership Collaborative are excellent for non-profit leaders to build confidence, self-reflect and realize that all professionals have the ability to become leaders, no matter their background or personality type and get a chance to develop skills they lack. It provides you with an approach to hone in on your strengths while working on challenges that you can overcome with time."
Ishi Sahni, Senior Director of Development at Planned Parenthood