BFL Speaker's Bureau & VOW DV Awareness Event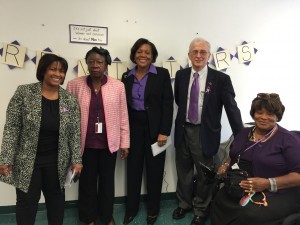 The BFL Speakers Bureau and The Voices of Women Organizing Project (VOW) held their domestic violence awareness month event "We Are Victors" on October 8.
A standing room only crowd were empowered by inspirational spoken word, dance and several special guest speakers. Theresa McIntosh, Coordinator of the Speaker's Bureau created the event, working with Raquel Singh, Executive Director of VOW.
Speakers included: Paul Feuerstein, President/CEO BFL; Gale Brewer, Manhattan Borough President; Kleo King, Deputy Commissioner, Mayor's Office for People with Disabilities; Marie B. Philip, Deputy Commissioner of the Office of Domestic Violence; Carlina Rivera, representative of Councilwoman Rosie Mendez; Georgette Delinois, Director f BFL's Secret Garden Program; and Adrian Walter-Ginzburg, BFL Board member.
Photo: (Left to right) Raquel Singh, Georgette Delinois, Marie B. Philip, Paul Feuerstein and Theresa McIntosh.