BFL Talks to Noah Galloway Men's Health Magazine Cover Model & Inspiration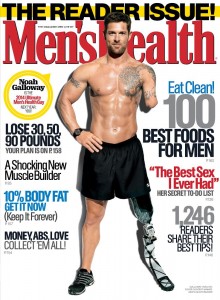 Noah Galloway, the Iraq war vet and amputee who beat out 1200 competitors to be Men's Health magazine's cover model for November, 2014 is an inspiration to people with disabilities nationwide.
We got a chance to talk to Noah about the cover, how he got through challenging times after his accident, and his secrets for a great gym routine.
BFL: Your story is a great inspiration to the people we work with in our shelters, men and women with disabilities who have been homeless, or are survivors of domestic violence. Can you tell us about the moment after the accident, when things turned around for you. When you decided to move forward in an empowering way. What was it that helped you make this change?
Noah: There was a moment where I looked in the mirror, and instead of concentrating on what I lost, I had a moment where I knew I had to concentrate on what I had left. I really wanted to be a better person for my children. My kids are absolutely my biggest motivator.
BFL: To people with a disability who may at one point feel hopeless or challenged, what can you say to them to help them move forward in their lives and reach their dreams?
Noah: People with disabilities would focus on what we're capable of now. Don't think about what you can't do – think about what you can do. People tend to put a limit on things because it's all they know, but they should be raising the bar. Challenge yourself.
BFL: For people with disabilities, who are inspired by your incredible athleticism, what tips can you offer in terms of finding innovative ways to exercise and reach healthy goals? Did you develop new systems to work out at the gym?
Noah: Just like any athlete, it's about muscle contraction. Anywhere there's a muscle, there's a way to contract it. You don't have to bench press to work you pecs. Contract those muscles; tighten and release, tighten and release.  If you want to improve something, whether you're injured or not, you concentrate on that muscle or muscle group. If you want to improve it, push it. As long as the muscle contracts you can move it.
As for a new system of working out, the way I work out is I do things on my right side, then other days I concentrate on my injured side. So I do right side, then left side. The trick to fitness is to make it as simple as possible. Too many people try to make it complicated – injury or not – and  they get wrapped up in that. It's ll about simplicity. It can be done just by working the muscle; you don't need to think about why. That's all working out is. Taking a weight and moving it from point A to point B. A dumbbell, your body weight – it' doesn't matter. Just move it.
BFL: What is it you most hope to achieve as a result of the exposure you have gained with the Men's Health magazine cover?
Noah: The attention and the exposure I've received since being on the cover of Men's Health has been incredible. And my only true hope is that I'm able to reach out to someone who didn't know my story and it motivated them enough to live a healthier life. I don't expect folks to do the races I do. Everyone can do something regardless of their injuries. Even if it's eating a healthier diet, if that's all you do, then you've made an improvement. I hope to reach as many people as possible and share that message.
BFL: You have become an inspiration to so many. Who is it that inspires you?
Noah: Great question. And actually, the people who inspire me are children with disabilities and their parents. My favorite stories that I hear are from parents of children with disabilities who look up to me. That keeps  me going. Knowing that I can be a positive role  model to children living with disabilities.
BFL: What ways do you think people (and government) can help make the world more accessible to people with disabilities?
Noah: Education. Bottom line. So often, people – and the government – have the right intentions, but not enough education on the capabilities of those who are disabled, and what our disabilities really are. Once people are educated on the capabilities, then you'll see better and more accessibility. But it has to start at education.
-SH