BFL Team Attends The Network Gala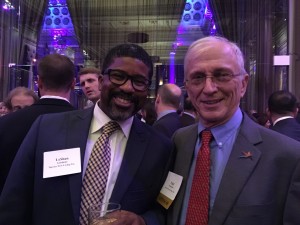 Barrier Free Living (BFL) team members were on hand at The Network's (Supportive Housing Network of New York) 2017 Network gala on October 18th at Capitale.
BFL's  Paul Feuerstein (photo top right) and LeShan Gaulman, Program Director at BFL's Transitional Housing (photo top left) joined BFL colleagues Scott Hess, Director of Communications and Tiffany Williams, Housing Specialist at Transitional Housing (in photo below, at right).
The Gala honored Commissioner & CEO RuthAnne Visnauskas of NYS Homes & Community Renewal as Government Partner of the Year, and Deutsche Bank as Private Sector Partner of the Year, and, as Residences of the Year: DePaul's Carriage Factory Apartments and Volunteers of America – Greater New York's Creston Avenue Residence.
Tenant of the Year honorees were :  Robert Offley of Urban Pathways, Milagros Bursey of the YWCA of Rochester, and Kimathi Witt of Concern for Independent Living.