BFL's Secret Garden At St. John's Turn Off The Violence Week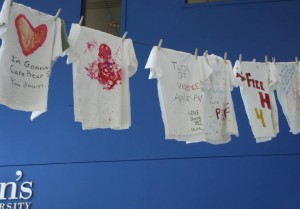 Barrier Free Living's Secret Garden domestic violence program will be participating in the Next Steps Fair on Thursday, April 26, part of Turn Off The Violence Week at St. John's University. 
Turn Off the Violence Week includes the Clothesline Project, and is a week of empowerment and awareness regarding sexual violence in the community. The Clothesline Project started in 1990 to address the issue of violence against women. It is a vehicle for people affected by violence to express their emotions by decorating a shirt. Students design a shirt to give a voice to and expose the horrific experiences that affect our community. For the 10th Annual Turn Off the Violence Week, "From Behind the Screen to #MeToo."
The Next Steps Fair is a wrap up to the week by providing resources in the community to students. Learn more here.