BFL's Secret Garden: Know Your Rights with ICE (Immigration and Customs Enforcement)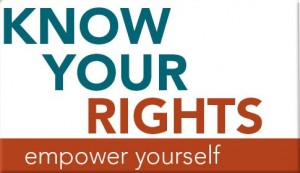 Blog contributor Jules is a social worker and the program director at Barrier Free Living's Secret Garden program. She has been practicing trauma-informed therapy with the agency for nearly 7 years.
In a recent Special Topics workshop hosted at the Secret Garden, criminal defense and immigration attorneys from
New York County Defenders Services
 provided a rich discussion around what it means to Know Your Rights around arrest and immigration.
Discussion highlights and suggestions include:
"Magic phrases", such as when you are approached by police asking: "am I under arrest?" and "am I free to leave?". Repeating yourself calmly while keeping your hands where a police officer can see them can be the difference between life and death.  If a police officer searches and frisks you another magic phrase to say is "I do not consent to this search" and "why am I being stopped?".
If you are arrested it is important to remain calm and not give any stories or excuses since that can be used against a person once the issues are brought to court in front of a judge.  Staying calm, not engaging with police, staying in control of your body and not resisting arrest, memorizing names and badges are also important if placed under arrest.
Nervous feelings are common when interacting with law enforcement in any situation.
Recording an interaction with law enforcement is within your rights as long as it does not interfere with the police officer doing their job.
If there are any situations that involve law enforcement or the criminal justice system make sure a lawyer is present – you have a right to have one!  And, if you believe a police officer did not behave in an ethical way, making a complaint to the Civilian Complaint Review Board, Internal Affairs and the NY State Attorney General's office are options.
A fact sheet on Know Your Rights with ICE (Immigration and Customs Enforcement) arrests click here.

Learn more about Secret Garden's insights and expertise on our new web page Domestic Violence & Disabilities.