BFL's Secret Garden Opens New Space, Unveils Historical Timeline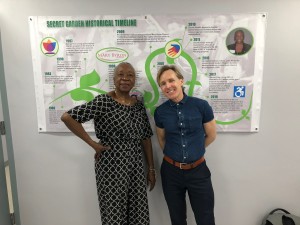 Barrier Free Living's (BFL) Secret Garden domestic violence program welcomed staff and supporters to the grand opening of its new healing space this May.
A historical timeline was unveiled (photo above) mapping the program's decades of providing services to survivors of domestic violence with disabilities.
"This is a great new home where we can focus on our comprehensive services. We welcome all agency staff to attend our regular workshops and trainings, or to just stop by through the year and find some quiet time," says Jules, Secret Garden Program Director.
Photos: Top (left to right) Former Secret Garden Program Director Georgette Delinois with BFL Director of Communications Scott Hess. Below (left to right) Accounting team members Vicky Wang, Sol Coriat with BFL Chief Operating Officer LeShan Gaulman.