Blogger Julia Alberino Muses On The Paralympics, And That Google Doodle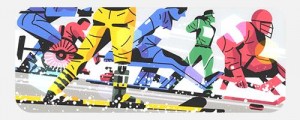 Guest Blogger Julia Alberino retired in 2011 after more than thirty years as a health care administrator in both the public and private sectors. She was a frequent speaker at professional conferences, and co-founder of an advocacy group that worked to maintain and improve services for Medicaid beneficiaries, including elderly and disabled individuals.
The first time I signed onto my search engine on Monday March 9, 2018, it thrilled me to see the image, above.
In case you're wondering, it's a Google Doodle honoring the Paralympics. During the regular Olympics earlier this year, Google had special Doodles every day to celebrate the Olympics and the athletes. It didn't occur to me that the company might do something to recognize the Paralympics as well. But there it was, a colorful Doodle.
Google and Time Magazine report that this year's competition is the biggest winter Paralympics to date, with more than 560 athletes competing for more than 80 medals in six sports: alpine skiing, biathlon, cross-country skiing, para ice hockey, snowboarding, and wheelchair curling.
It's an exciting time for Paralympic athletes, with the United States sending 68 competitors. While my advocate's heart rejoiced at the size and scope of the games, and at the recognition by Google, I can't help wondering whether the day might come when the Paralympics are integrated into the Olympics. I confess I'm not even sure that would be a good thing; perhaps it would take something away from these special athletes, but full inclusion of the disabled in as many aspects of life as possible does seem a goal toward which to strive.
Perhaps our readers would comment pro or con?