Breaking Barriers, May 2015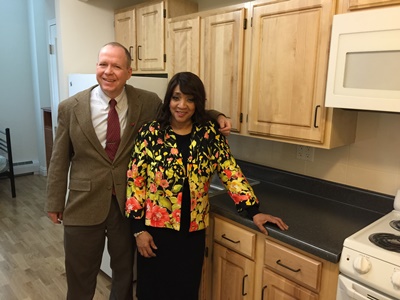 This month's contributor, Thomas Obrzut joined the Barrier Free Living team this spring as Director of our newest vision: Barrier Free Living Apartments, a Supportive Housing Program for people with disabilities in the Bronx, NY. BFL Apartments will be an important step in filling a critical need in New York City. The program, slated to open summery 2015, will provide permanent housing to survivors of domestic violence with disabilities, homeless people who are nursing home eligible (including BFL's Homeless Program) as well as veterans with disabilities. Thomas shares how his team hopes to make a difference working with people with disabilities.
In my nearly thirty years of working in housing services for people who were homeless, formerly homeless, and at risk of becoming homeless, healing has always been an important value.
My interest  in creative work and healing began shortly after college when I started performing and later running a poetry reading in New Brunswick, New Jersey and then later in several locations in New York. I could see how people used that forum to talk about their memories and experiences and how this helped them on their journey to healing.
This discovery led me to explore poetry therapy and meditation techniques because I saw that both activities helped people to heal from traumatic experiences. I started meditating at 17 and have continued the practice and studied it throughout my life. I teach meditation in an adult school in Westfield, New Jersey. I have taught creative writing and produced magazines featuring the works of the people we served for United Jewish Council and for Urban Pathways where I managed both supportive housing and a shelter.
I know that housing is a basic human need. And I know that there are techniques that allow for healing and can foster independence. We strongly believe in creating an environment to foster healing in our new Supportive Housing program.
Our Supportive Housing program is located in the Mott Haven section of the Bronx. We have 120 apartments available to people who fit the criteria of having a domestic violence history and who qualify for the New York/New York III program and for disabled veterans and those in need of special care. Seventy of our studios are for single people and the remaining 50 (31 two bedroom, 19 one bedroom) are for families—as many as a single head of household and up to three children. The families will be in our building on 138th Street and the singles will be in our adjacent building on 139th Street.
There has been a scarcity of housing specifically built for people with special needs who are survivors of domestic violence. Our goal is to welcome people into our new community where they will find safe, accessible and affordable housing.
Our two buildings are a half block from the 6 train Cypress Avenue stop.  Crosstown buses (one of which goes into Manhattan) stop in front of our 138th street building.  An accessible grocery store is across the street.  138th Street is the main shopping district for the people of Mott Haven.
Our program offers a number of unique attributes that can foster healing and growth for our residents including:
This is the first supportive housing project that has primarily addressed the needs of survivors of domestic violence.
The program will have a team of occupational therapists, a nurse, psychiatric consultant, social workers, and resident aides to address the needs of residents.
The program will assist people to rectify credit problems and establish good credit, to learn how to navigate the neighborhood and the wider city, learn how to establish networks of support within the community and, for some, to find and keep employment.
The best thing about our supportive housing is that we are taking the Barrier Free Living philosophy of helping people with disabilities to live with dignity and creating an environment that is safe and secure. The goal of our programming is to create a nurturing community that values a commitment to non-violence and peaceful coexistence.
Working closely with me is the program's Director of Social Services, Denise Shaw. Denise Shaw has been a social worker since 1991. She is a graduate of NYU's School of Social Work and has mostly worked in homeless services and housing. She was a senior manager at Covenant House New York for 17 years. She was also a Director at Shepherd Maternity House in East Stroudsburg, Pa. and was Deputy Director of Residential Services and Programs at Heritage Health and Housing. Denise loves music and was a singer in night clubs throughout New York especially in The Bronx for many years.
We are both excited about this opportunity to support our new residents in learning to survive, thrive, have new experiences, and find a home for themselves that they can keep for as long as they like. The housing is permanent.  Some may choose to live with us for the rest of their lives.  Others may outgrow their need for the program and move on. We will be there to welcome new members to our community so they can have a place of healing as well.
Save
Save