Campaign 4 NY/NY Housing Rally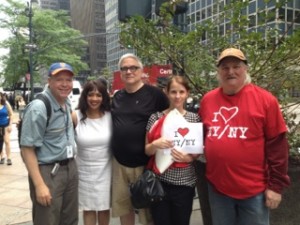 The Campaign 4 NY/NY Housing held a rally Friday, June 12th  at 11:00am at Governor's Cuomo's NYC office (633 Third Avenue –between 40th & 41st Streets) in support of a new statewide supportive housing agreement.
BFL's new Supportive Housing team attended. Pictured, from left are Program Director Thomas Obrzut and Director of Social Services Denise Shaw
The Campaign is calling 35,000 units of supportive housing for individuals and families with special needs over the next 10 years. Supportive housing has continually proven to be the most humane and cost-effective solution to ending homelessness for the most vulnerable New Yorkers and a new agreement would serve as an essential tool in ending New York City's current record levels of homelessness.