Dance/ NYC Pre-Symposium Feb. 27 Registration Open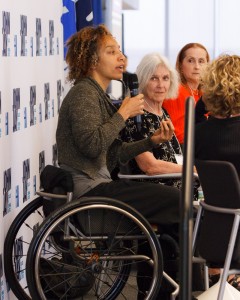 Photo Alice Sheppard . Credit: Jeffrey Lee/On the Spot Image
Registration for Dance/NYC's 2016 Pre-Symposium Sessions is Now Open!
When: Saturday, February 27, 2016, 10:30 a.m.-4:00 p.m.
Where: Gibney Dance Center, 280 Broadway (enter at 53 Chambers)
How: Register Now. Symposium Registration is required.
Pre-Symposium – FREE for Symposium attendees
Full Symposium Registration – $125
Artist Rate – $50
A Pre-Symposium program, part of Dance/NYC's initiative to increase access and inclusion to the art form, is presented in partnership with Art Beyond Sight, Inclusion in the Arts, and the New Jersey Theatre Alliance. The sessions require separate registration and are available at no cost to Symposium attendees on a first-come, first-served basis.  All sessions take place at Gibney Dance's 280 Broadway location.