Dancing With The Stars' Noah Galloway Inspires People With Disabilities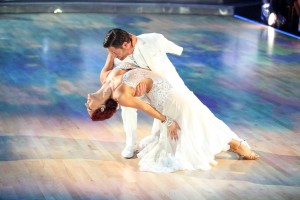 The night Noah Galloway lifted his Dancing with the Stars partner Sharna Burgess into the air with one arm was a truly triumphant moment.  It was the impact of his performance on a fellow veteran, however, that Galloway counts as his most monumental achievement.
"I did the one-handed lift that was never done before on the show. When I picked her up I heard people jump to their feet and cheer," says Noah who lost his left arm above the elbow and his left leg above the knee in Iraq. "The next day however I realized this is bigger than I am."
The morning after the show, Noah learned that a fellow veteran, who had been stuck in depression, was so moved by his ability to beat the odds on Dancing with the Stars that he broke his isolation and asked for support.
"It's so motivating to know you are doing something that really helps others," says Noah, who took third place with his partner Burgess in Dancing with the Stars Season 20 last year. "A friend told me that I am affecting guys that have served (in the military) in a way that I don't realize. And I thought Wow."
Noah says he is humbled by the fact that he has become an inspiration to people with disabilities worldwide. He is currently a champion of the No Excuses Charitable Fund which empowers injured veterans through support of physical rehabilitative services.
"You do not know what you are capable of until you are forced to do it," he says. "Each day something is going to get easier. You are going to adapt. Our body and our minds are resilient."
After his injury, Noah went through a period of depression and had to cope with a lot of anger.
"I felt alone. I hid it from everyone. I didn't let anyone into that world. I was afraid people would see me as weak. But so many people go through that," he says.
It was by opening up and sharing his pain that Noah healed. He began working out again at the gym after the injury which ultimately led him to obstacle course races.
Noah became a national hero to people with disabilities in 2014, when he appeared on the November 2014 cover of Men's Health magazine. (See our interview here.) He the first reader to be selected for the magazine's cover, and was named the publication's "Ultimate Men's Health Guy". He has been a guest on The Ellen DeGeneres Show and The Today Show.
Noah is working on a biography and says he is grateful for all the opportunities that have come his way since his injury in 2005.
"I want to keep growing, and to bring more awareness to people with disabilities and to veterans. I hope I can still reach and inspire people to do a little more. To give back and challenge themselves."