Deaf Justice Coalition Launches NYPD Pilot Program to Improve Accessibility for Deaf and Hard of Hearing New Yorkers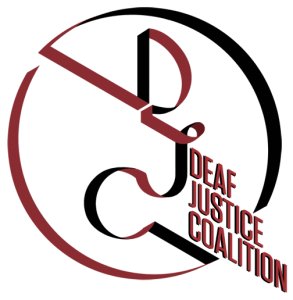 The Deaf Justice Coalition announced the launch of a pilot program by the New York City Police Department (NYPD) aimed at improving access to law enforcement services for people who are Deaf or Hard of Hearing (DHH).
"Being able to contact the police if they're in trouble is something that most people take for granted," said Deaf Justice Coalition member and Barrier Free Living Secret Garden team member Nicolyn Plummer, who advocates for domestic violence survivors. "Whenever I hear about another person who hasn't been able to report abuse because the NYPD doesn't have an ASL interpreter on hand, I'm outraged. The NYPD should be, too."
Several years of negotiations between the Deaf Justice Coalition, a New York-based coalition of d/Deaf rights advocates, and the NYPD led to the creation of this program in three police precincts in Manhattan, Queens, and Staten Island. The program will require the NYPD to provide in-person, on-site American Sign Language (ASL) interpreters upon request and to equip officers with handheld tablets for video-based ASL interpreting.
New York City is home to more than 200,000 people who are DHH. While police departments around the country have implemented programs to ensure language access for people who are DHH, the NYPD has to date lagged behind, Deaf Justice Coalition advocates report.
"We shouldn't be treated like second-class citizens—least of all by the NYPD," said DJC member Chris Tester. "But that's the reality when we're left with basically no way to communicate with law enforcement. It's humiliating."
Read the full press release here.