Denim Day Activists At Bust Magazine Event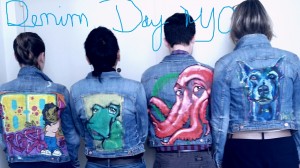 Denim Day Activists received a shout out in an article in the Hollywood Times.
The article, which was about Bust Magazine's Primped Craftacular event,  notes:
"Not every booth was selling goods, either. Two young activists were passing out pamphlets for Denim Day, an annual rally during sexual assault awareness month.
In New York City, thousands will gather on April 26th clad in denim jeans. The jeans represent an Italian court's verdict to overturn a rape conviction because the survivor was wearing jeans that were too tight.
It was a solemn reminder, in a space filled with high fashion, that women's bodies are so often the epicenter of political oppression. An oppression heightened for those in the LGBT community, for women of color, or gender non-conforming individuals."
Learn more about Denim Day.