Denim Day NYC April 25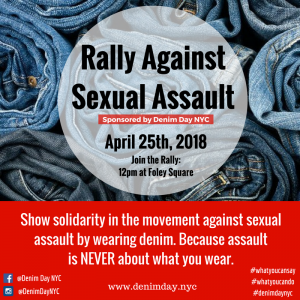 A host of events are planned for Denim Day in New York City Wednesday, April 25th. 
Denim Day NYC is a coalition of community agencies, elected officials, students, and volunteers united to promote awareness around the issue of sexual assault.
Denim Day grew out of a case in which a rape conviction was overturned because the judge reasoned the victim's tight jeans meant that she had to have helped her assailant remove them, implying consent.  People were outraged all over the world and wearing jeans became an international symbol of protest against erroneous and destructive attitudes and myths surrounding sexual assault. Denim Day started in Los Angeles and has grown into an international movement. Denim Day NYC started in 2010 with a collaborative of three agencies and has grown to more than 40 agencies uniting to promote awareness around the issue of sexual assault.
Events this year include:
 Tuesday, 4/24 – Staten Island –  9:30 am
STATEN ISLAND BOROUGH HALL CALL TO ACTION
Staten Island Borough Hall, 10 Richmond Terrace, Staten Island, NY 10301
Community Health Action of Staten Island (CHASI) is partnering with the Richmond County District Attorney's Office for a Call to Action.
 Tuesday 4/24 – Brooklyn – 4:30-6:30 p.m.
THEATER OF WAR PRESENTS TAPE
YWCA of Brooklyn, 30 Third Ave., Brooklyn (downtown BK). Open to the public. Free.
Theater of War is a social impact theater project that uses dramatic readings of theater pieces as a catalyst for important community conversations. TAPE is a free, interactive performance of scenes from Stephen Belber's play TAPE, followed by discussions about consent, power dynamics, and sexual assault. These performances are designed to challenge individuals and communities to examine their own core values and pursue positive action.
Register at https://www.eventbrite.com/e/tape-ywca-brooklyn-tickets-44619317580?aff=es2
 Wednesday 4/25 – Staten Island – 8:00-10:00 a.m. & 3:00-6:00 p.m.
OUTREACH AT THE STATEN ISLAND FERRY TERMINAL
Join Safe Horizon as we provide resources to commuters about support services for survivors of sexual assault.
For additional information, please contact Jennifer Hernandez-Baniqued (Staten Island Community Program) at 718-720-2591
 Wednesday 4/25 – Brooklyn – 9:30 a.m.
DENIM WALK ACROSS THE BROOKLYN BRIDGE
Fashion Week Brooklyn organizers, models, and stylists will host an event at Brooklyn Borough Hall and then march across the Brooklyn Bridge immediately afterwards to Foley Square in downtown Manhattan.
 Wednesday 4/25 – Manhattan – 12 p.m.
RALLY AGAINST SEXUAL ASSAULT, sponsored by Denim Day NYC
Foley Square
Worth St., Centre St. & Lafayette St.
Denim Day NYC member organizations, survivors, elected officials, and advocates will join together at our annual rally at Foley Square to stand up and speak out against sexual violence.
 Thursday 4/26 – Bronx – 4:00 p.m.
ANNUAL BRONX MARCH AGAINST SEXUAL ASSAULT
Meet at Mt. Eden Parkway and the Grand Concourse. at 4:00 p.m., March begins at 4:30 p.m. March to the New Settlement Community Center (1501 Jerome Avenue, 2nd Floor). Special performances, activities, and tabling.
Be sure to visit the Denim Day NYC website to view additional events: http://www.denimday.nyc/2018-events/