A Fair Shake For Youth At Freedom House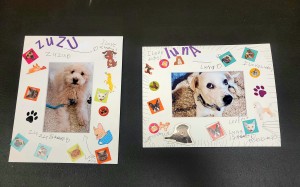 Zuzu and Luna (photos above) brought joy and healing to the kids at Barrier Free Living's Freedom House domestic violence shelter this spring.
A Fair Shake for Youth provided its four-week program which guides kids "to learn about effective communication, relationship building, and respect by working with dogs."
A Fair Shake for Youth "uses the power of registered therapy dogs to help middle school youth build a foundation of empathy and self-esteem, and reduce bullying. As the kids learn to work with the dogs they learn about themselves and each other in ways that open up new possibilities for their lives."
The Freedom House team shares: "For the spring semester we had four sessions where our children were able to learn, interact and receive love and affection from these trained therapy dogs. We had a total of four dogs visiting."
The final session in June had eight children taking part, along with their parents. The kids decorated pictures of their favorite dogs.
Learn how you can Make A Difference as a volunteer.