Domestic Violence Awareness Month Supporter Spotlight: Spread The Sparkle!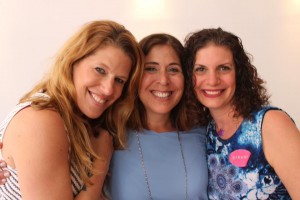 It was five years ago that I first connected with Abbey Levine (at far left above).  We were dishing fashion and love at a Chelsea café when she revealed her new dream project: 
Spread the Sparkle
.
She wanted to redefine the concept of holiday celebration, for people that were searching for renewal and hope. She was looking for a non-profit to work with.
A firm believer in kismet, I told Abbey about
Barrier Free Living
and our programs working with survivors of domestic violence with disabilities, in particular, our new supportive housing program that was opening. The rest, as they say, is her-story, as Abbey shares here.
What first drew you to barrier free living to create the Spread the Sparkle event?
AL: Spread the Sparkle was born as a way to create family events on holidays. We knew we wanted to serve communities longing for that personal connection on days when other non-profits might be closed. Barrier Free Living has become the family Spread the Sparkle always dreamed of. Some people have been attending our events for 5 years running and are now actually helping us create Christmas for others in the organization. BFL is run with love, tenderness and is very family forward. We work with their staff each year and have become close to all. We feel their mission matches ours and we look forward to continuing to grow our relationship.
How has the event, and your relationship with Barrier Free Living evolved over the years?
AL: We started with an event for 30 men, women and kids and have grown to 250. We've watched kids grow up already and seen women come back more empowered, stronger and more full of love every year.
What most surprises you about the work you have been doing at the events?
AL: How much people talk about our events through the course of the year. We've started getting emails and calls from those within the BFL community, asking if they can come to our events…or help plan it. We LOVE seeing the smiles on the kid's faces. And the mom's get a few hours off on a holiday as they let their kids run around our events. All of our volunteers absolutely cherish being able to participate in our events. From the planning to the day of, the Spread the Sparkle and BFL partnership has sprinkled lots of glittery joy on many who have come together already.
Where do you hope Sparkle will be in 5 years, and what part will Barrier Free Living play in that?
AL: Oh we'd love to spread out to other cities across the USA. If we could partner with BFL to grow, that would be amazing. Also, we'd love to have a few women from BFL helping out more behind the scenes. We'd like to strengthen our relationships across the board.
If you could send one message to all the Sparkle event attendees what would that be?
AL: We love you. We cherish you. We think about you and send you sparkle vibes all year long. We are so grateful you allow us to spend Christmas Day with you. Thank you for showing up and participating fully in our events!