Donor Profile: Anne Markowitz Consultant Turned BFL Champion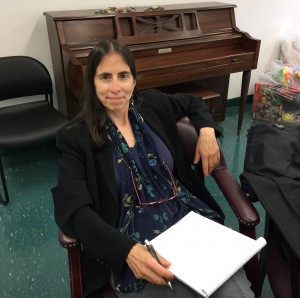 Anne leading a workshop at Barrier Free Living. 
In 2000, while working in Victim Services at Harlem Hospital, Anne Markowitz did a presentation at Barrier Free Living (BFL).  That was the beginning of a rich collaboration that continues to this day.
"I did that presentation at BFL and was asked to work as a consultant. I was so impressed with the work and mission at the different sites (BFL Programs), I was glad to sign on," she says.
Over two decades and various consulting workshops later (on topics like anger) Anne was so moved by the agency's staff and mission, that she decided to curate an annual donation drive. Every winter, she reaches out to friends and colleagues and shares about the services BFL offers at its shelter and programs. This year the drive raised $2700.
"I have always been moved and impressed by the spirit of BFL. The staff are truly dedicated to the work of helping people in crisis (survivors of domestic violence with disabilities). I have seen countless examples of selfless, generous, caring gestures from staff to residents as well as to each other."
Anne says she was specifically moved by the passion and commitment of the staff, and wanted to make sure they knew the drive was inspired by them and "the hard work they do…the staff should know that they are respected and valued and that people outside BFL know about them and are grateful that they are helping people in need of support."
Anne adds that while many people may have the resources to donate they don't have a direct connection to the people they would like to help.
"When I ask for donations, I get incredibly enthusiastic feedback from people who donated." says Anne.