Donor Profile: Nina Inspired By BFL's Commitment To Community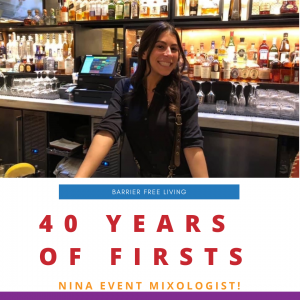 The success of Barrier Free Living's (BFL) recent 40 years of Firsts fundraiser was due in great part to the support of the dedicated fundraising committee.
Committee member Nina-Marie Scalera contributed not only dynamic, creative ideas but offered her skills as a bartender/mixologist at the event. We caught up with her to find out what initially drew her to the organization and its mission.
BFL: Tell us about what drew you to support BFL?
Nina: What inspired me to work with Barrier Free Living was learning about the many years of hard work, time and dedication their staff and volunteers put in to make this nonprofit flourish. I have so much respect for the longevity of BFL and knew I wanted to be apart of their journey!
BFL: What did you discover while working on the event?
Nina: One thing that surprised me the most about BFL is how much they value helping all types of humans. No matter their race, gender or background BFL treats every individual equally and gives them the opportunity to move past their hardships and take control of their lives. I loved learning and watching all the heartwarming stories from real people.
BFL: What would you tell a potential donor about BFL?
Nina: If I were to describe Barrier Free Living to a potential donor or supporter, I would ensure them that they are helping a very important cause that doesn't get recognized enough. BFL truly supports a community that usually gets overlooked and gives them a chance to have equal opportunities. Their core values alone show how focused they are on helping every person that walks though their doors to reach their fullest potential.