Former Freedom House Resident Honored with New Destiny Resilience Award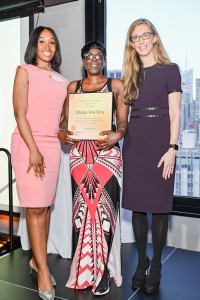 Photo from L to R: Tiffany El-Amin, Program Director at The Kira, Diane Mullins, Resilience Award Recipient, Nicole Branca, Executive Director of New Destiny Housing. Photo above and below: Ben Gabbe Photography
Former Freedom House resident Diane Mullins received the Resilience Award at the New Destiny Housing 2023 benefit: Building Homes, Building Hope.
Accepting the award at the April 20 benefit, Ms. Mullins thanked Freedom House saying "Freedom House connected me to New Destiny, and that's where I regain normalcy. I should be giving you all an award for your help!"
New Destiny shared that Ms. Mullins' journey "has not been without hardships, grief, & abuse. After becoming legally blind, she was abused by her children."  With support from Barrier Free Living (BFL) she was connected with New Destiny.
New Destiny Housing is committed to ending the cycle of domestic violence and homelessness by connecting survivors to safe, permanent, affordable housing and services.
Barrier Free Living recently celebrated its 40th Anniversary. BFL works with survivors of domestic violence with disabilities at its shelter and programs.