Freedom House Residents Graduate From EASE Program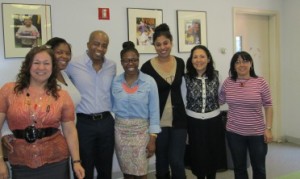 Residents of BFL's Freedom House Emergency Shelter graduated from the EASE program this April.
The ECONOMIC AND SOCIAL EMPOWERMENT (EASE) PROGRAM, created by Robert Hawkins and Alisha Ali of New York University, helps to equip survivors of domestic violence with resources to secure sustainable employment.
Pictured at the graduation are: (left to right) Zoila Vargas, Freedom House Entitlements worker; Tysheene Neely, Freedom House, Housing Specialist; Robert Hawkins, Ph.D, NYU professor; Nickeema Coy, NYU student;  Reka Prasad, NYU student; Isa Martinez, Freedom House Program Director;  and Josephine Vasquez, Freedom House Housing and Entitlement Director
Residents worked on a number of goals including:
• Emotional regulation: counteracting the psychological and
emotional effects of trauma by teaching skills that regulate emotions (e.g., relaxation; visualization).
• Social capital: developing social resources that can lead to
sustainable employment (e.g., networking resources; eliminating
negative/damaging ties).