Freedom House Spotlight: From Domestic Violence Shelter Resident To Team Volunteer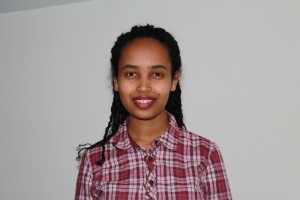 When Bethelihem and her family arrived at Barrier Free Living's Freedom House domestic violence shelter in 2014, the only thing on her mind was safety.  Not long into her stay, she discovered the power of helping others as part of her own healing journey.  Today, as a senior at  Hunter College of City University of New York (CUNY) pursuing a Sociology degree, Bethelihem decided that she wanted to give back to the shelter that gave so much to her family during their time of crisis. 
BFL:
What drew you to come back and volunteer at Freedom House?
Bethelihem:
I first came to Freedom house in February 2014 with my family. While staying here, we got the chance to talk about our situation with professionals which helped us to manage our emotions and to be hopeful about the future. I spent my time here going to different meetings and participating in several activities such as cooking, mommy & me (group) and potlucks.
I observed how the staff treated us and encouraged us to aim for great things despite what we went through which made me determined to impact other people's lives. I decided to come back and contribute my part. I wanted to volunteer here because I wanted to be part of the great mission that Freedom House has for women and children.  They are doing a great job with women and children to move on and change their lives.
The other reason I decided to come back is because I used to teach children Amharic (the national language of Ethiopia) so I had experience with them and also I wanted to help children who are in the same situations once I and my siblings were in. I reached out to a staff member about my interest to volunteer this summer.
BFL:
What are some of the accomplishments and challenges you face as a volunteer at Freedom House?
Bethelihem:
I enjoy working with children so I'm having a great time. Some of the accomplishments are I got to meet many children from different backgrounds who are very talented and disciplined. I also get to see how the childcare staff handles different emotional situations of the children and I learned how to provide extraordinary care to them which helps the kids to grow emotionally and connect with their peers. I got the chance to meet parents and discuss ideas with the staff.
BFL:
Is there any particular memory of the experience that really stands out?
Bethelihem:
One time, I was helping a five year old girl with her homework which was so much fun and brought back memories about my experience when my siblings were at the same age. This little girl was interested in getting all the questions right and thoroughly understanding her homework. Her enthusiasm was very refreshing to me because despite her current situation, she was determined to learn.
BFL:
What will you take away from the experience and how might it impact you in your life going forward?
Bethelihem:
This volunteering experience has been teaching me important skills which I get to use every day and will hopefully continue to use in the future. I know Freedom House is doing a fantastic job in providing protection to domestic violence victims and the necessary help to go back to the community.  To be a part of this process makes me very happy.
I'm so grateful to the staff who helped us through our difficult time. Volunteering to help the parents and children gives me a great joy. As a former resident of Freedom House I and my family are a witness of the hard work of the staff who are dedicated to changing people's lives for the better.
I'm proud of our accomplishments. My sister is going to be attending University of Rochester and my brother, Manhattan College. My youngest sister, who is now a tenth grader, preparing for the SATs and Regents. I want all the residents to know everything will be okay and they will do amazing things in their lives. I also would like to applaud them for fighting the difficult battles and that they made it through to feel they are safe at Freedom house.
BFL:
Can you share about your future plans, and also any hobbies or things you like doing in your spare?
Bethelihem:
I'm currently a senior at Hunter College pursuing a Sociology degree. I will graduate in fall 2018 and hope to work for an organization like Freedom House where I can utilize my academic skills and personal experience to help women and children and impact their lives positively. In my spare time, I like to read books, play with my siblings, cook, write Amharic poems and watch interviews.