Freedom House: Working With Children In Our Domestic Violence Shelter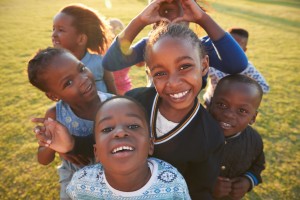 Contributor Sara Eldridge, LMSW, is the Assisstant Director of Social Services at Barrier Free Living's Freedom House domestic violence shelter.  Sara is a licensed social worker who received a Master's Degree in Social Work from Silberman School of Social Work at Hunter College in 2015.  Sara has been a social worker at Freedom House since 2015, where she provides individual and group counseling to adults, children and adolescents. Prior to Freedom House she worked with youth in alternatives to detention and incarceration programs, student veterans and crime victims.
Since opening in 2006 as one of the only domestic violence shelters in the nation fully equipped to serve survivors with disabilities and their families, Barrier Free Living's Freedom House has made great strides in working with not only adults, but children of all ages.
(Take a brief virtual tour of freedom house here)
Domestic violence impacts the entire family unit. Children may witness the domestic violence or may directly experience abuse.
Moving into a domestic violence shelter can be very disruptive for children who must leave behind family, friends and school and move into a new location.
Their parents may lack the time and resources to provide the support they need, especially if they're focusing on finding a new job, obtaining permanent housing, and attending court dates.
Children with disabilities face unique challenges in abruptly moving to a shelter, including loss of services or adaptive equipment. For autistic children or children with developmental disabilities the change in their routine and environment can be very upsetting and take some adjustment.
The Coordinator of Family Services at Freedom House, a licensed social worker, runs a weekly support group for children ages 7 to 12 called "Express Yourself". The group focuses on artistic activities that help children explore their emotions, such as creating masks to represent different parts of their personality, creating anger maps of the ways they feel and act when they're angry, and emotion thermometers to help measure their emotions.
The children have a safe space to share their feelings with each other and brainstorm more positive ways to deal with negative feelings.
Freedom House's childcare program also offers a number of community building activities for children, including arts and crafts, cooking classes, movie nights and pajama parties. During the summer months childcare take field trips to the movies and host a family barbecue.
When there are older adolescents and teenagers at Freedom House, the social workers offer teen groups. These groups use art activities and roleplays to discuss identity, relationships, and their experiences of living in a domestic violence shelter. One group watched the popular film Twilight and discussed the themes of power and control they observed ..
Domestic violence can be very challenging for children and it can sometimes be difficult for them to relax and allow themselves to be children. Social and recreational activities with other children, facilitated by trauma-informed staff, are important in giving children an outlet for their emotions while also allowing them to have fun and to heal.