Give One: Volunteers At Barrier Free Living Apartments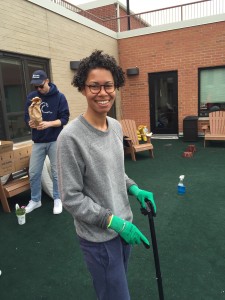 The newly launched Give One organization worked with the tenant's Garden Club at BFL Apartments this April to spruce up the 6th floor roof. The volunteers and the tenants cleaned the roof, planted seeds and flowers and set up the area for spring.
"Watching the tenants work side by side with the volunteers was an amazing experience and a powerful example of community building," says Scott Hess, Director of Communications who rolled up his sleeves and dug into the dirt with the crew.
Give One, which kicked off earlier this month with a meet and greet event, has a motto to "connect with the charities and organizations you want to support – online with your wallet, and on the ground with your time."