Go Pink Day At BFL's Freedom House Shelter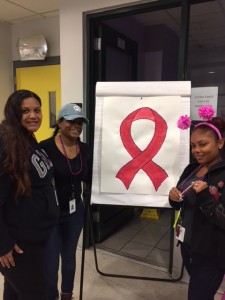 The front desk staff of Barrier Free Living's  Freedom House program hosted its second annual Go Pink Day on Friday October 20.
Resident Aide Manager Linette Holmes shares that "This is the second year Freedom House is remembering all those that are survivors of Breast Cancer and those that have lost the fight."
Freedom House staff wore pink to commemorate this special cause and a GO PINK TABLE was the focal point of the celebration. The table "held pamphlets, breast cancer information and goodies." says Linette. Also near the table was a large ribbon made by the child care team.
"Everyone including staff and residents were able to write whatever they were feeling about cancer on the ribbon. This is a cause that brings all of the staff together and hopefully the Front Desk Team is able to Host a PINK DAY every year," says Holmes.
Freedom House is a shelter for survivors of domestic violence, and their families.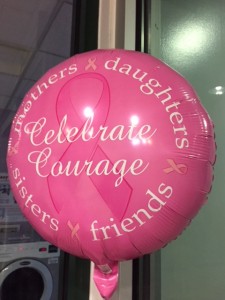 In the top photo: Shift Supervisor Talisa Cora, Resident Aide/Driver Lena Flores, and Resident Aide Zenamarie Castro.