HSC Leadership Awards Ceremony Heralds New Era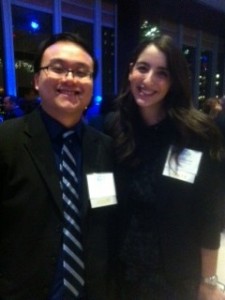 Human Services Council Executive Director Allison Sesso called for strong advocacy and vision for the Human Services sector at this year's Leadership Awards ceremony on December 2.
Speaking to a packed crowd on the 35th floor of Mutual of America's Park Avenue building, Sesso invigorated the crowd and applauded honorees.
Honored were: Jason Lilien of Zuckerman Spaeder, Partner & Chair of Nonprofit Organizations Practice; Jose Davila of Hispanic Federation; Michelle Yanche of Good Shepherd Services; Richard Altman of Jewish Child Care Association of NY; Dr. Peter Beitchman of The Bridge; Elba Montalvo of The Committee For Hispanic Children & Families; and Robert Siebel of Catholic Charities Brooklyn and Queens.
Pictured: Human Servcies Council's Jason Wu and Marisa Semensohn.