Identity Theatre Company Celebrates Ten Years With Zoom Show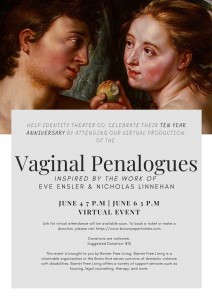 The Identity Theatre Company celebrates its 10 year anniversary this June with a show taking a unique twist on the famed Vagina Monologues.
The Vaginal Penologues "gives voice to the human condition as it relates to sexuality" featuring a cast of actors from New York , Los Angeles and Ohio, says Dr. Nick Linnehan of Identity.
"Just as diverse as the content is, the actors follow suit giving unique perspectives on many topics that are often hard to talk about," says Nick.
Performances are:
Jun 4, 2021 07:00 PM Eastern Time (US and Canada) Zoom Link. 
June 6, 2021 02:30 PM Eastern Time (US and Canada) show at 3 pm. Zoom Link.
A portion of the show's proceeds will benefit Barrier Free Living.