INCLUDEnyc Launches Spanish-Language Website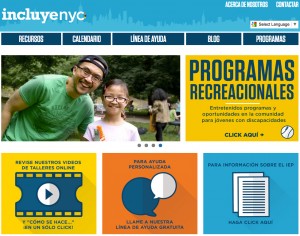 INCLUDEnyc launched a new Spanish-language website, INCLUYEnyc.org, for the disability community created by Spanish-speaking communications experts and disability advocates with the community's specific needs in mind.
The website contains original Spanish-language content and a wealth of never-before translated materials, says INCLUDEnyc.
"Our mission is to provide young people with disabilities and their families in Spanish-speaking communities with high quality, relevant, and accessible information," Executive Director Barbara A. Glassman explained.
In New York City public schools approximately​ ​50%​ ​of​ ​ ​students​ ​who​ ​have​ ​Individualized Education​ ​Programs​ ​(IEPs)​ ​are​ ​Hispanic​, which is more than 90,000 students. Of special education students overall, nearly 60% do not graduate from high school.
"INCLUDEnyc is very motivated to assist New York City's Spanish-speaking communities to help improve the educational outcomes for our Hispanic students," Ms. Glassman continued.
There are more​ ​than​ ​900,000​ ​people​ ​with​ ​disabilities​ ​in​ ​New​ ​York​ ​City​. One of every three lives in poverty and two-thirds are unemployed.
INCLUYEnyc fosters positive futures for young people with any disability from birth to age 26 and their families in New York City by giving them the resources, confidence, and skills they need to make informed decisions, effectively access and navigate systems and services, and the ability to advocate for themselves and other young people.
For further assistance in Spanish, call INCLUYEnyc's​ ​free​ ​Help​ ​Line
at (212) 677 4668, or email [email protected]