Larry Wilson Joins Freedom House Team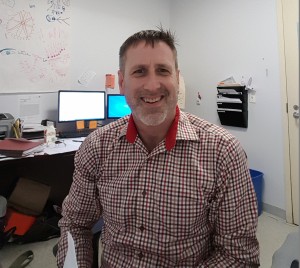 Larry Wilson, who recently joined the Freedom House team as a social worker, has always been keen on making a difference.
Wilson, who started his journey with the agency as an intern at Freedom House, is excited to be pursuing his goals and to "learn about family dynamics in the context of trauma." When he's not working, Wilson loves to read, and hopes one day to make it to Burning Man.
We caught up with Wilson to talk about his new position.
BFL: What drew you to Barrier Free Living?
Wilson: The concept of "Social Justice" was introduced to me at a very early age as my family is comprised primarily of die hard liberals from New York City. Through volunteering and financial contributions, I tried to make a difference in a number of communities. When I made my career change to Mental Health Counseling and needed to find an internship, Freedom House, BFL jumped out at me. Not only did Freedom House provide me with the multi-faceted counseling and social work experience I sought, the BFL mission statement stood out at me; "Free of abuse and bias", "diversity", with the understanding that "the ability to change comes from within"- all soundbites that hold personal meaning and represent ideals which I value and believe in. After completing my internship at Freedom House, I advocated for a position! It was a no-brainer.
BFL: Where are you from?
Wilson: I grew-up in Guilford, Connecticut and Valencia, Spain, but I consider myself a New Yorker as my family all hails from Brooklyn, and I have been living here for the past 25 years. I really cannot imagine living anyplace else. Well maybe one day….
BFL: What do you hope to achieve in your new position at Freedom House?
Wilson: I hope to achieve a certain level of subject matter expertise within DV, specifically with regards to resources available as I improve my effectiveness as a Social Worker/Advocate/Counselor. I also view this as an opportune time to understand and learn about family dynamics within the context of trauma and how I (we) can best serve those families we work with today.
BFL: What led you to the field of social work?
Wilson: I lost about 50% of my friends during the AIDS crisis and was the victim of a racial hate crime during the Rodney King trials. These events resulted in me needing services for a number of issues all directly related to the trauma I experienced. Fortunately, I had family, friends, and amazing resources available to me. I knew I was fortunate, but it never really hit home. Over time, I decided I wanted to do something, to give back, to help those who were not as fortunate as I. I left my corporate job and took a year off. During this time I did a lot of research within a number of disciplines and spoke to everyone I possibly could about careers in health care. I decided I would go back to school for Mental Health Counseling. In doing so, I am able to leverage my corporate skills and newly learned clinical skills and fill a number of roles which provide assistance to the community served at FH as well as several others of which I am active in. I never really understood that social work meant wearing about 2 dozen hats. I love it.
BFL: What do you like to do in your spare time?
Wilson: I enjoy cooking and spend free time in the kitchen trying new recipes and preparing food for friends and family. I also spend a great deal of time reading; I will usually have 2-3 books going at the same time. Whether I am cooking or reading, you'll find my best friend, Luka, next to me, trying to lick my face and play a game of catch (he's my Australian Mini-Shepard puppy).
BFL: What's on your bucket list?
Wilson: My life bucket list includes traveling to Peru and seeing Machu-Picchu, going to Burning Man, and driving cross-country to visit some of our National Parks.
Larry Wilson, M.A. MHC
Social Worker
Freedom House